Vaping cannabis has exploded in popularity. This modern alternative to smoking has gained traction as a potentially healthier option. The lack of combustion and carcinogenic substances makes vaping easier on the lungs. Plus, lower temperatures help to preserve the complex flavor of each strain.
Temperature control is the key to unlocking whatever effects a strain can offer. A strain that is high in CBD, for example, must be heated to the compound's boiling point of 356 degrees Fahrenheit if you are to reap its benefits. Likewise, the relaxing terpene linalool is not unleashed until you hit 388 degrees Fahrenheit. Temperature can also determine a strain's intensity; higher temperatures typically exaggerate effects while lower temperatures offer a more gentle, mellow experience.
Why temperature matters for vaping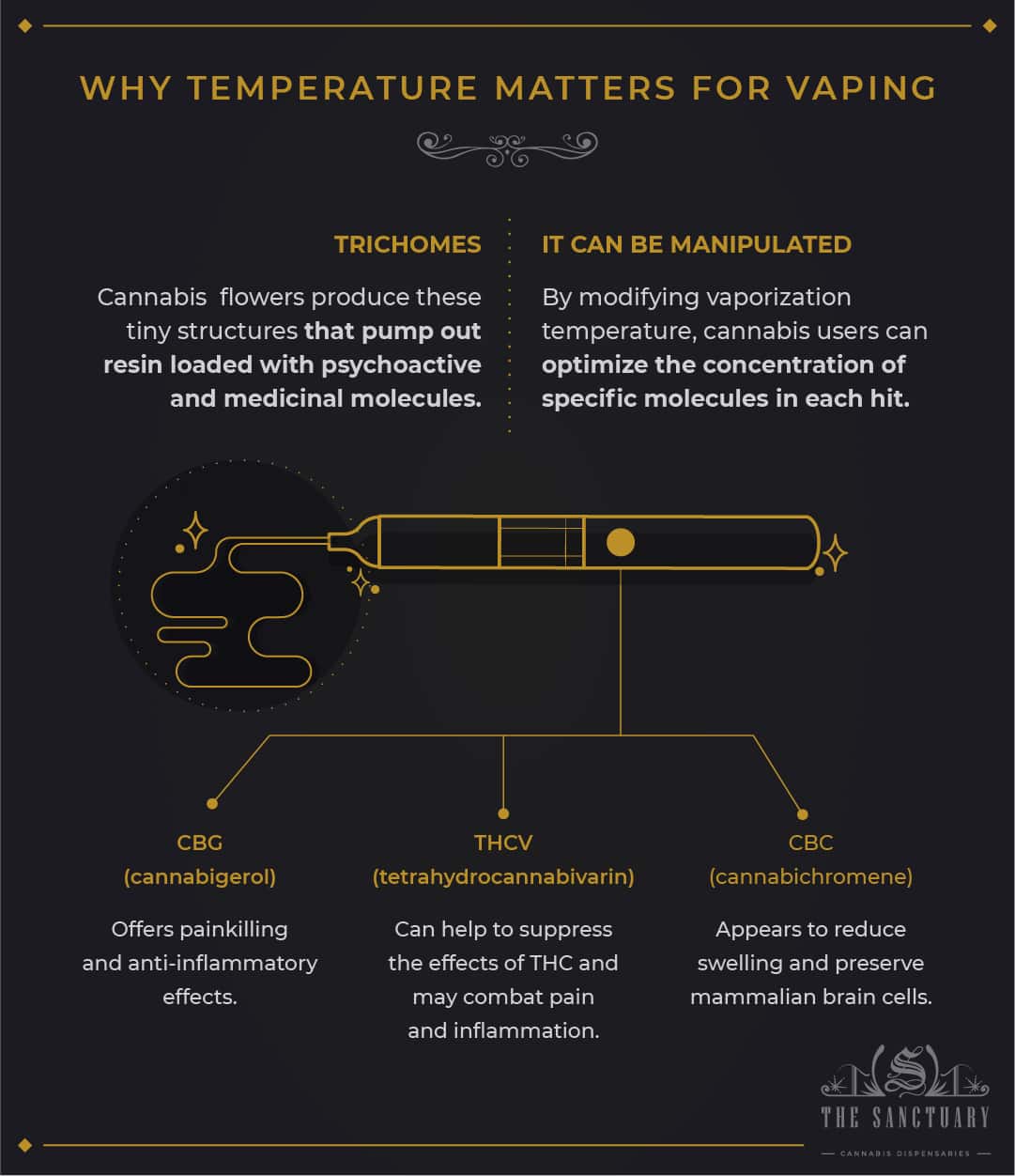 The cannabis plant is an organic chemical factory. Its flowers produce small, mushroom-shaped outgrowths called trichomes. These tiny structures pump out resin loaded with psychoactive and medicinal molecules.
Among this repertoire are over 100 cannabinoids, more than 100 terpenes, and numerous flavonoids. By modifying vaporization temperature, cannabis users can optimize the concentration of specific molecules in each hit.
Science is starting to pay more attention to other major and minor cannabinoids. Research has already confirmed that CBG (cannabigerol) offers painkilling and anti-inflammatory effects. THCV (tetrahydrocannabivarin) can help to suppress the effects of THC and may combat pain and inflammation. CBC (cannabichromene) appears to reduce swelling and preserve mammalian brain cells. As science progresses, more data will surely begin to surface.
Ideal temperature ranges for cannabis
Cannabis users can expect different psychoactive effects at different temperature ranges. This will vary depending on the strain and the individual. Below is a temperature guideline for the most common compounds in cannabis:
Low: 246–320 degrees Fahrenheit
Vaping within this temperature range will liberate THC. This bracket will also target numerous terpenes that add pleasant tastes and therapeutic effects.
Low-Medium: 320–356 degrees Fahrenheit
Vaping within this temperature range invites some extremely interesting molecules to the mix. If you are vaping high-CBD flower, this is the optimal range to release the molecule alongside key terpenes. If you are vaping high-THC flower, you will unleash a lot more terpenes at this temperature.
Medium-High: 356-390 degrees Fahrenheit
This temperature range adds further therapeutic properties to cannabis vapor. The addition of a particular cannabinoid also adds a sedating and relaxing edge.
High: 390 degrees Fahrenheit and above
This is the high end of the temperature spectrum. Here, further beneficial cannabinoids and terpenes are unlocked. However, things are starting to get hot. This is where vaping becomes more like smoking and some detrimental molecules turn into gases. Although this temperature range is thought to release all of the beneficial compounds within cannabis flowers, it is a fine balance between optimal vaporization and releasing harmful chemicals.