The popularity of vaping cannabis has skyrocketed. This contemporary smoking substitute has gained popularity as a possibly healthier alternative. Vaping is gentler on the lungs because there is no combustion or harmful chemicals. Furthermore, lower temperatures assist to retain each strain's unique flavor.
The key to unleashing whatever benefits a strain has to give is temperature management. If you want to get the advantages of a CBD-rich strain, for example, you must heat it to the compound's boiling point of 356 degrees Fahrenheit. Similarly, the calming terpene linalool isn't released until the temperature reaches 388 degrees Fahrenheit. The strength of a strain can also be determined by its temperature; greater temperatures tend to accentuate effects, whilst lower temperatures provide a more mild, mellow sensation.
Why temperature matters for vaping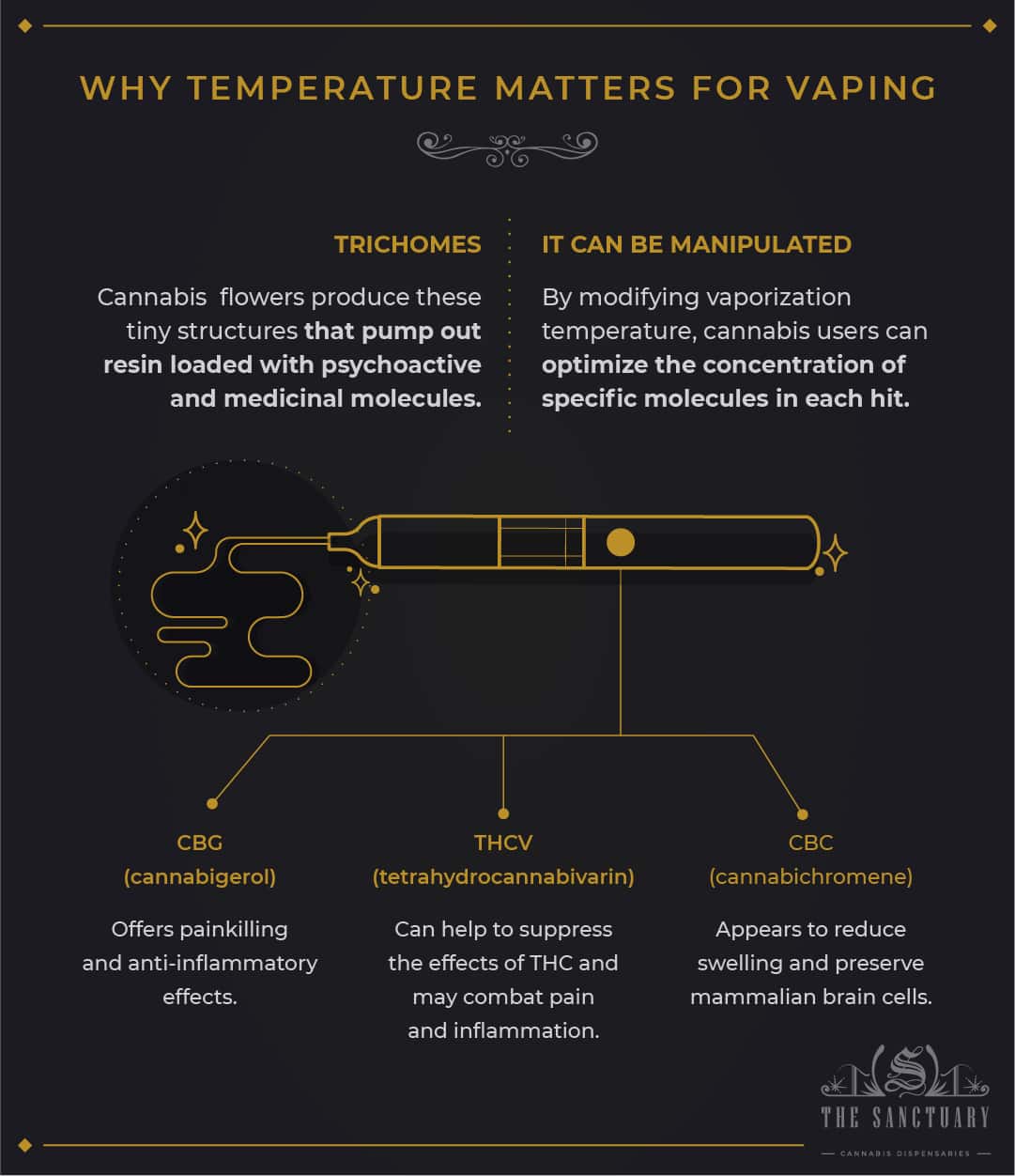 The cannabis plant is a factory for organic chemicals. It generates trichomes, which are tiny mushroom-shaped outgrowths. These microscopic structures produce resin rich in psychoactive and therapeutic compounds.
There are over 100 cannabinoids, over 100 terpenes, and several flavonoids in this collection. Cannabis users may customize the concentration of particular chemicals in each hit by adjusting the vaporization temperature.
Other major and minor cannabinoids are receiving greater attention in science. CBG (cannabigerol) has been shown to have anti-inflammatory and pain-relieving properties in studies. THCV (tetrahydrocannabivarin) is a cannabinoid that can assist to inhibit the effects of THC while also combating pain and inflammation.
Cannabichromene (CBC) appears to decrease swelling in mammalian brain cells while also preserving them. As science develops, more data will inevitably emerge.
Ideal temperature ranges for cannabis
At different temperatures, cannabis users might expect varied psychotropic effects. This varies based on the person and cannabis strain. The following is a temperature guideline for the most prevalent cannabis compounds:
Low: 246–320 degrees Fahrenheit
THC can be liberated by vaping in this range of temperatures. This level also targets a variety of terpenes, which contribute to the pleasant flavor and medicinal benefits of cannabis.
Low-Medium: 320–356 degrees Fahrenheit
When you vape at this temperature, you're inviting some really intriguing compounds into the mix. This is the best range for releasing CBD alongside essential terpenes if you're smoking high-CBD flower. If you're vaping high-THC flower, this temperature will release a lot more terpenes.
Medium-High: 356-390 degrees Fahrenheit
The medicinal effects of cannabis vapor are enhanced by this temperature bracket. A sedative and calming effect is also added by the administration of a specific cannabinoid.
High: 390 degrees Fahrenheit and above
This is the extreme of the temperature range. More helpful terpenes and cannabinoids may be found here. Things, on the other hand, are starting to heat up. This is when vaping resembles smoking, and certain harmful chemicals are converted to gases.
This temperature range is considered to liberate all of the therapeutic components found in cannabis flower, however, it is a delicate balance between vaporization and the release of detrimental toxins.