Both recreational and medical cannabis is legal in Nevada thanks to the passing of Question 2. Recreational consumers who are 21 years of age and older are now able to purchase up to 1 ounce of cannabis or up to 1/8 of an ounce of concentrate at a time.
Anyone 18 years and older with a valid medical marijuana card can purchase cannabis legally in Nevada, even if the card has been issued from another state. Minors can also qualify for a medical card as long as a parent or guardian signs the minor release form and agrees to act as the child's primary caregiver.
Legislation history
Nevada cannabis legalization began when voters passed the Regulation and Taxation of Marijuana Act, or Question 2, on November 8, 2016, with 54.4 percent voting in favor. The Nevada recreational weed laws went into effect July 1, 2017, allowing adults 21 and older to purchase and consume cannabis for personal use. Before approval of Question 2, possession and consumption was reserved for medical cannabis patients suffering from serious health issues.
The Medical Use of Marijuana Act, or Question 9, was approved by 65.4 percent of Nevada voters in 2000. It legalized home cultivation of cannabis for medical use and created a patient registry system. However, medical marijuana sales in Nevada did not take place until 2015.
Jurisdiction over both the medical marijuana and adult-use programs belongs to the Nevada Department of Taxation. Before Question 2, the medical marijuana program was administered by the Division of Public and Behavioral Health (DPBH). The DPBH currently administers the Medical Marijuana Patient Cardholder Registry.
How to get a medical cannabis license
All patients who qualify for the medical program must have a recommendation from a certified physician in order to obtain medical marijuana with a Nevada marijuana license. Only patients who have been diagnosed with a chronic or debilitating medical condition in which the medical use of marijuana may mitigate the symptoms or effects of that condition will receive recommendations.
The following are qualifying conditions in order to be eligible for a medical license.
Addiction to opioids
Anorexia
Anxiety disorder
Autism
Autoimmune disease
Cancer
Cachexia, or wasting syndrome
Glaucoma
HIV/AIDS
Neuropathic conditions
Persistent muscle spasms, including those caused by multiple sclerosis
Seizures, including those caused by epilepsy
Severe nausea or pain
Any other chronic or debilitating medical condition as classified by the DPBH, or upon the acceptance of a petition to add a condition to Nevada's recognized list of conditions.
Where to purchase weed in Nevada
Medical cannabis dispensaries are open for business, and many now have dual-licensed facilities, meaning they are able to dispense cannabis to both recreational and medical patients.
Recreational dispensaries are determined by county size, with 80 being allocated to Clark County, 20 to Washoe County, four to Carson County, and two to the additional 14 counties. Most dispensaries can be found in highly populated areas like Las Vegas and Reno, with the remaining ones sprinkled throughout the rest of the state.
Dispensary store hours must be authorized by local governments, be in operation during and only during their established timeframe and have their store hours clearly posted at all times.
Store hours vary based on local government regulations. For example, Las Vegas allows medical dispensaries to operate between the hours of 6:00 am and 10:00 pm, while Reno dispensaries may be permitted to stay open as late as midnight.
How much does weed cost in Nevada?
When Nevada opened the doors to its legal cannabis market in 2017, record sales in addition to some early distribution issues led to a price increase of 200 percent. In addition to incredible demand, a scarcity of cultivators and a shortage of supply caused legal establishments to raise their prices.
As it currently stacks up, a gram of marijuana flower normally costs $12 to $20 at licensed dispensaries across Nevada while the same quantity of pot can be purchased legally in Portland and Denver for $6 to $10. An eighth of cannabis flower, priced at $35 to $70 in Nevada, costs between $17 to $50 in Oregon and Colorado's largest cities.
Nevada's comparatively high pot prices are due to costs paid by dispensaries to state-mandated testing labs and a tax that is as high as 38 percent by the time the weed reaches the buyer. As the industry expands to include more dispensaries and cultivation facilities, more pot supply will force shops to compete for customers.
Nevada has less than one-eighth the number of open dispensaries in both Oregon and Colorado, and costly lab testing standards for those states are not as stringent as they are in Nevada.
How to grow weed legally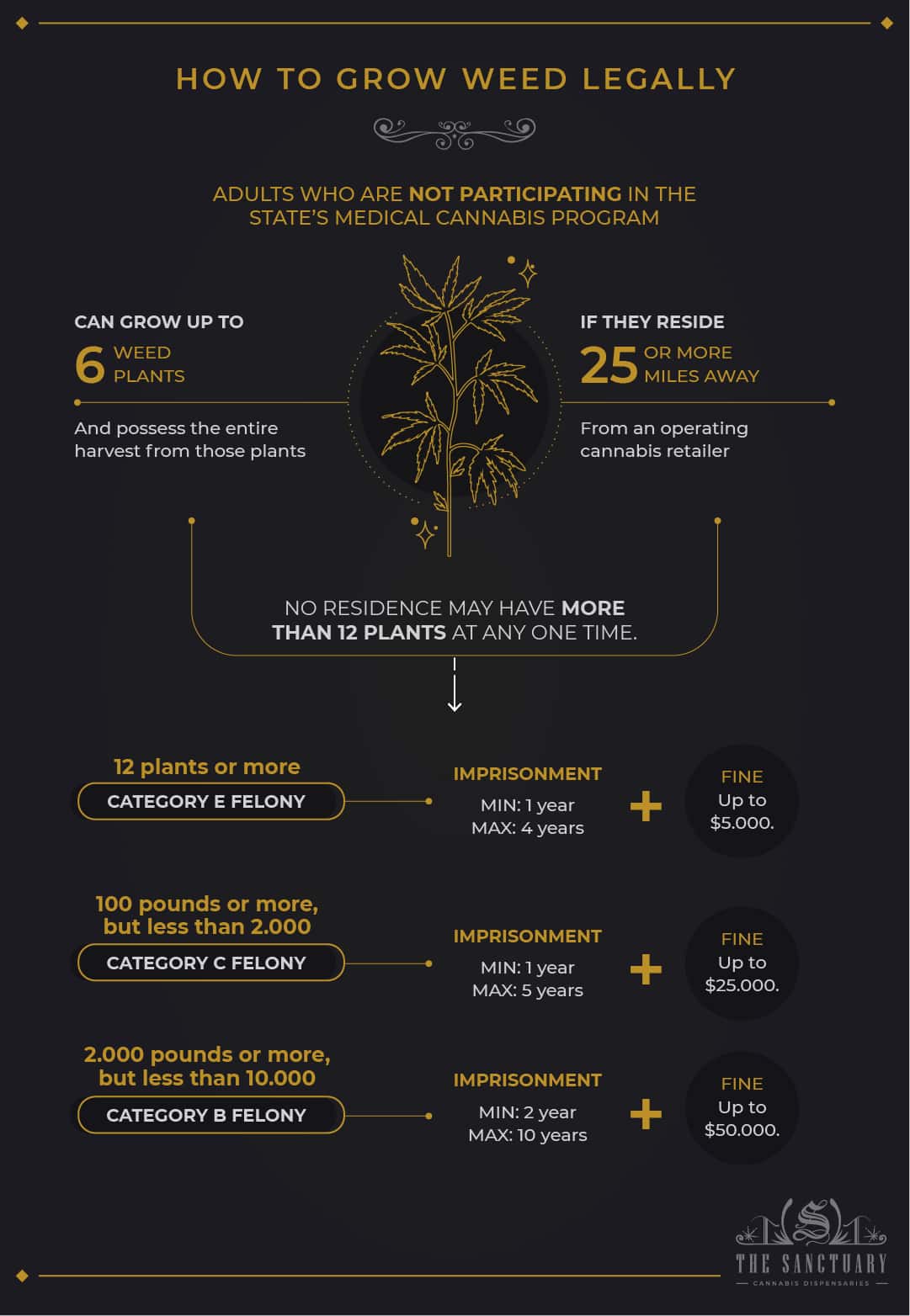 Question 2 permits adults who are not participating in the state's medical cannabis program to legally grow up to 6 weed plants, and to possess the entire harvest from those plants, if they reside 25 miles or more away from an operating cannabis retailer. No residence may have more than 12 plants at any one time.
Cultivation of 12 plants or more is a category E felony punishable by a minimum of 1 year and a maximum of 4 years imprisonment and a fine up to $5,000.
Cultivation of 100 pounds or more but less than 2,000 pounds of marijuana is a category C felony punishable by a minimum of 1 year and a maximum of 5 years imprisonment and a fine up to $25,000. Cultivation of 2,000 pounds or more but less than 10,000 pounds is a category B felony punishable by a minimum of 2 years and maximum of 10 years imprisonment and a fine up to $50,000.
Is DUI of marijuana a crime?
Nevada law prohibits drunk driving and drugged driving. Even if the driver is not impaired, it is DUI to drive with the following pot levels:
Blood: At least 2 nanograms per milliliter (or 5 nanograms per milliliter of marijuana metabolite);
Urine: At least 10 nanograms per milliliter (or 5 nanograms per milliliter of marijuana metabolite)
Law enforcement officials will determine if a person is under the influence of marijuana by requesting either a urine sample, blood sample, or field sobriety test. A first-time DUI conviction with no injury is a misdemeanor. Penalties typically include a fine and a suspended jail sentence. The judge also orders DUI school and a victim impact panel. A first-time DUI also carries a six-month driver's license suspension. But defendants can usually drive immediately on a restricted license.
DUI of marijuana charges can be difficult for a prosecutor to prove. A criminal defense attorney may be able to get the charges reduced to reckless driving or dismissed completely.
Cannabis reciprocity laws
Out-of-state patients with a valid medical marijuana card issued in their home state can purchase cannabis legally in Nevada.
Visiting patients must meet the following conditions and abide by all of Nevada's medical marijuana possession laws regardless of how much marijuana each patient is allowed to possess in their home state:
Must have a valid, non-expired medical marijuana card from their home state.
Their home state must exempt medical marijuana cardholders from criminal prosecution for medical marijuana use.
The law in your home state must require that physicians advise patients about the benefits of using medical marijuana to ease a patient's symptoms before a card is issued by that state.
The Nevada authorities must be able to verify the validity of your medical marijuana card by accessing a database of registered users.
The majority of medical cannabis states meet these criteria, and the state of Nevada does not maintain a list of programs that do not meet the criteria. If you are uncertain whether or not your medical card is accepted at a Nevada dispensary, it is best to call ahead to be certain before visiting the store.
Lab testing
All cannabis grown and processed in Nevada must be tested by an independent testing laboratory. Laboratories must receive a medical marijuana establishment registration certificate before performing any cannabis quality assurance test. Subsequently, labs must meet certain criteria in order to complete the certification process to conduct tests.
Labs must analyze for the following:
Cannabinoids
Foreign matter
Heavy metals
Microbes
Moisture content
Pesticide and other chemical residues
Potency
Solvents
Terpenes