The public profile of CBD has soared in recent years, with users taking it to treat all manner of ailments and conditions. It can be consumed in a variety of ways, ranging from simple oral consumption to topical use and even vaping.
There are two main forms of CBD on the market: isolate and full spectrum. Both full-spectrum CBD and CBD isolate are extracts from the cannabis plant. But even though they come from the same plant, there are still differences.
What is the difference?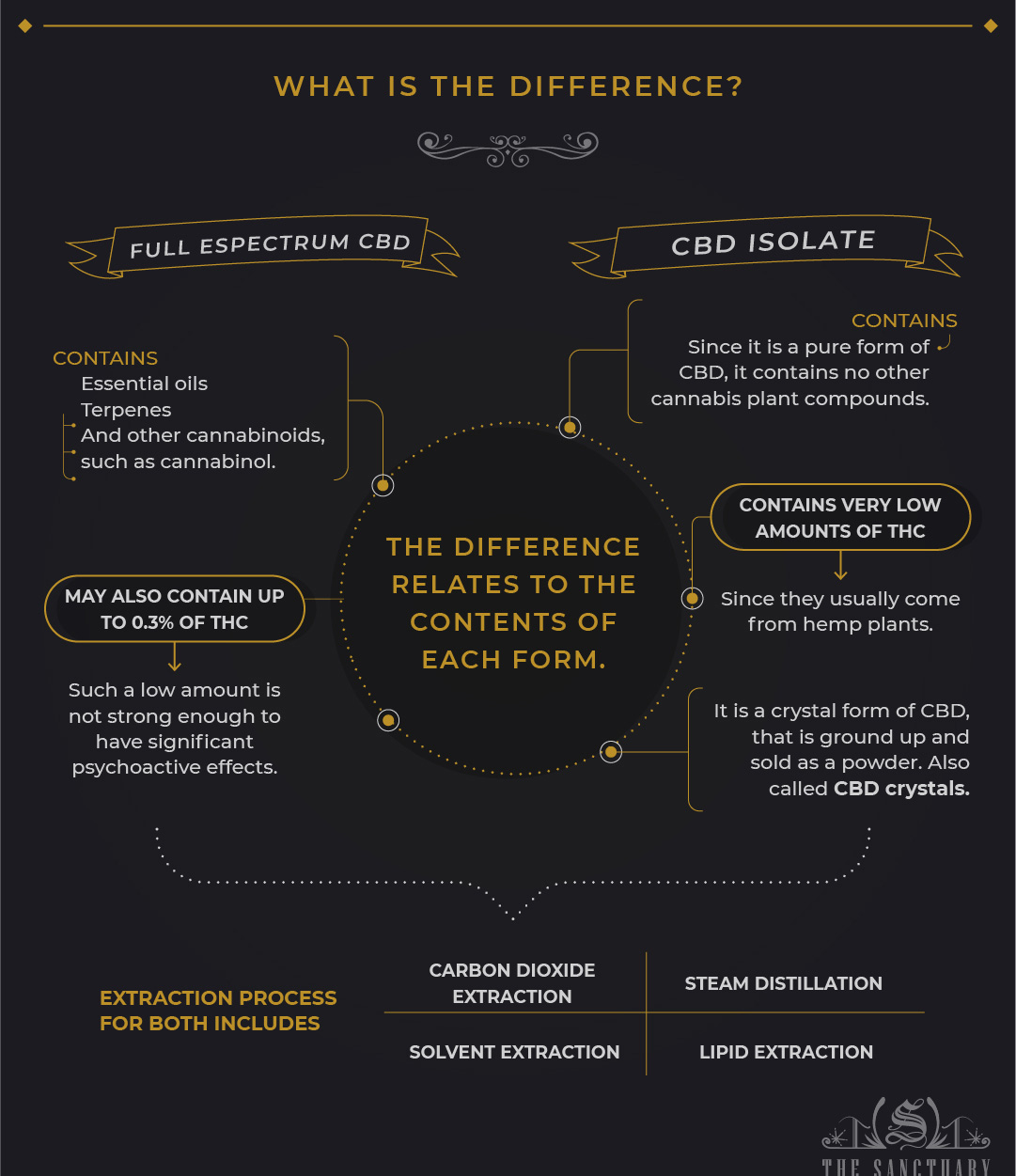 The difference between CBD isolate and full-spectrum CBD relates to the contents of each form. A full-spectrum CBD product contains multiple cannabis plant extracts, including essential oils, terpenes, and other cannabinoids, such as cannabinol.
Full-spectrum CBD products may also contain up to 0.3 percent of tetrahydrocannabinol (THC), the cannabinoid in the cannabis plant that produces the "high" feeling in people. However, such a low amount is not strong enough to have significant psychoactive effects.
CBD isolate is a pure form of CBD. It contains no other cannabis plant compounds. It usually comes from hemp plants, which typically contain very low amounts of THC. CBD isolate is a crystal form of CBD, and it is often ground up and sold as a powder. It may also be called CBD crystals.
The CBD extraction process is no different for each of these products, which usually involves:
Carbon dioxide extraction
Steam distillation
Solvent extraction
Lipid extraction
However, CBD isolate is a much more refined product and goes through extra processing.
Full-spectrum CBD benefits
Because full-spectrum CBD contains all cannabis plant compounds, it may have a more potent effect than pure CBD. Research suggests that CBD's health benefits may be more prominent when multiple compounds from the cannabis plant are present. This is what researchers call the "entourage effect."
Full-spectrum CBD products only contain low amounts of THC. However, during the manufacturing process, THC levels can rise as the CBD converts into a concentrate. People should do their research and look up independent test results before purchasing a CBD product.
With a range of reported health benefits, uses for full-spectrum CBD include:
Anti-seizure
Muscle spasm relief
Anti-anxiety
Pain relief
Treatment for psychotic disorders
Antioxidant
Anti-inflammatory
One 2018 study found that certain CBD compounds may also have neuroprotective effects. Another 2018 study suggests that full-spectrum CBD is more effective for pain than CBD isolate because of the combined effects of CBD and THC. Another advantage of full-spectrum CBD is that it is less processed and more natural than CBD isolate.
The entourage effect
The entourage effect is a theory that claims that the compounds in cannabis can synergize in the body, producing unique effects. Now, some sources debate the validity of the entourage effect; however, there is solid research to suggest that cannabis' distinct effects do not simply come from the individual compounds it contains, but the way those compounds interact in the body.
Studies have shown, for example, that the CBD in cannabis can counteract some of the negative side effects of THC, such as anxiety. It is believed that CBD can block some cannabinoid receptors, therefore blocking the effects of THC, which binds directly to these receptors.
Ethan Russo, a well-known cannabinoid researcher, has documented the entourage effect in the past. In an interview with Scientific American, Russo mentioned that as little as 5mg of pure THC is enough to cause psychosis-like symptoms in some people. When taken together with CBD, however, patients can take much higher doses (up to 48mg) of THC without these negative side effects.
Research also shows that full-spectrum CBD products tend to offer better relief from some symptoms than isolates. A study from the Lautenberg Center for General Tumor Immunology in Jerusalem compared full-spectrum CBD with isolates in the treatment of pain and inflammation. In all aspects of the study, full-spectrum CBD always came out on top.
For more evidence of the entourage effect, we can look to Marinol, a synthetic, FDA-approved version of THC prescribed for chemotherapy-induced nausea and vomiting. For a long time, cancer patients have found that THC-rich cannabis can help reduce nausea and vomiting that often accompanies chemotherapy. Marinol, on the other hand, is much less effective than its natural counterpart, sometimes even causing nausea rather than reducing it.
It is important to realize, however, that the entourage effect does not just extend to THC and CBD. All of the components in cannabis can interact with each other and create unique effects, including terpenes.
Some sources suggest, for example, that pinene can help reduce some of the cognitive impairment caused by THC. Meanwhile, pinene, myrcene, and caryophyllene have also been shown to reduce anxiety, which could enhance the anxiolytic effects of CBD.
Unfortunately, most of the research into cannabis has focused heavily on the effects of THC and CBD. However, as more research starts to look into the many other compounds present in the cannabis plant, we will soon learn more about its endless potential.
What is CBD isolate?
Cannabidiol alone has been the subject of a lot of research as it stands out from the rest with what seems to be the widest therapeutic value.
CBD isolate products are generally labeled as being 99 percent or more pure CBD depending on the form they come in. As the name suggests, these products have been isolated down to just the CBD molecule. They have no other active ingredient and just aim to deliver therapeutic doses of CBD, isolated from the other cannabinoids and terpenes.
CBD isolate itself is a white powder, which may be available to consumers. More often, isolates are mixed with a carrier oil to become tinctures, or placed in capsules, edible products like gummies, topical creams, and so on. They are then used just like a full spectrum hemp extract product.
CBD isolate benefits
Hemp-derived CBD products with less than 0.3 percent THC are legal federally but still illegal under some state laws. Cannabis-derived CBD products, on the other hand, are illegal federally but legal under some state laws. Check local legislation, especially when traveling.
Also, keep in mind that the Food and Drug Administration (FDA) has not approved nonprescription CBD products, which may be inaccurately labeled.
CBD isolate is the purest form of CBD. It may be a suitable product for first-time CBD users who wish to experiment with the potential health benefits, without the interference of other cannabis compounds, which may alter the effects. CBD isolate is also refined, so it has no discernible taste or odor.
A 2015 animal study concludes that while CBD isolate may offer certain health benefits, the effects may be less notable than when using a full-spectrum CBD product. The research also indicates that CBD isolate's effects against pain and inflammation may only occur at a specific dose. This is in contrast to full-spectrum products, where effects increase as the dosage does.
For this reason, people who wish to take high doses of CBD may prefer a CBD isolate. This is not necessarily a negative quality of CBD isolate. Some people may prefer a product without THC, or they might be sensitive to this substance.
As there is no THC, this substance should not show up in any drug tests. However, people should be careful when purchasing CBD products. Items with a THC-free label may still contain traces of the compound. Thoroughly reading the packaging, labels, and third-party test results will help ensure a person gets all the information they need to avoid adverse effects.
Broad-spectrum CBD
Broad-spectrum CBD is very similar to full-spectrum CBD in that it contains additional cannabis plant compounds.
Most broad-spectrum CBD products contain minimal trace amounts of THC. Like full-spectrum CBD, broad-spectrum products may have a higher likelihood of producing beneficial health effects than CBD isolate because of the entourage effect.
How to use CBD
It can be hard to find the right dose when using topical CBD products, but a good rule of thumb is to use about as much as you would with a non-CBD topical cream.
When taking an oil or gummy, always start with a low dose of 5 mg and work your way up. Edibles may take longer to kick in than other types of products, so wait a bit before you take more.
One week after starting CBD, reassess your symptoms. If you have not noticed much improvement, increase the dosage by about 5 mg per day. This should help you find the right dosage for you.