Are you tired of consuming CBD in the same old-school ways? Try brewing a delicious yet relaxing cup of CBD tea! 
It's an easy way to reap the benefits of cannabis that doesn't require you to do anything extra. You just have to brew the CBD flower, tea bag, or oil in a cup of water till it starts smelling great. Tada, your CBD tea is ready! 
You can add your favorite ingredients, such as cinnamon, chamomile, or lemon, to your tea according to your taste. The result? A refreshing, flavorful, and relaxing cup of tea consisting of the therapeutic benefits of CBD. 
Sounds interesting? Let's learn how to make CBD tea in three ways to bless your mind and taste buds with something great.
Types of CBD Tea You Can Make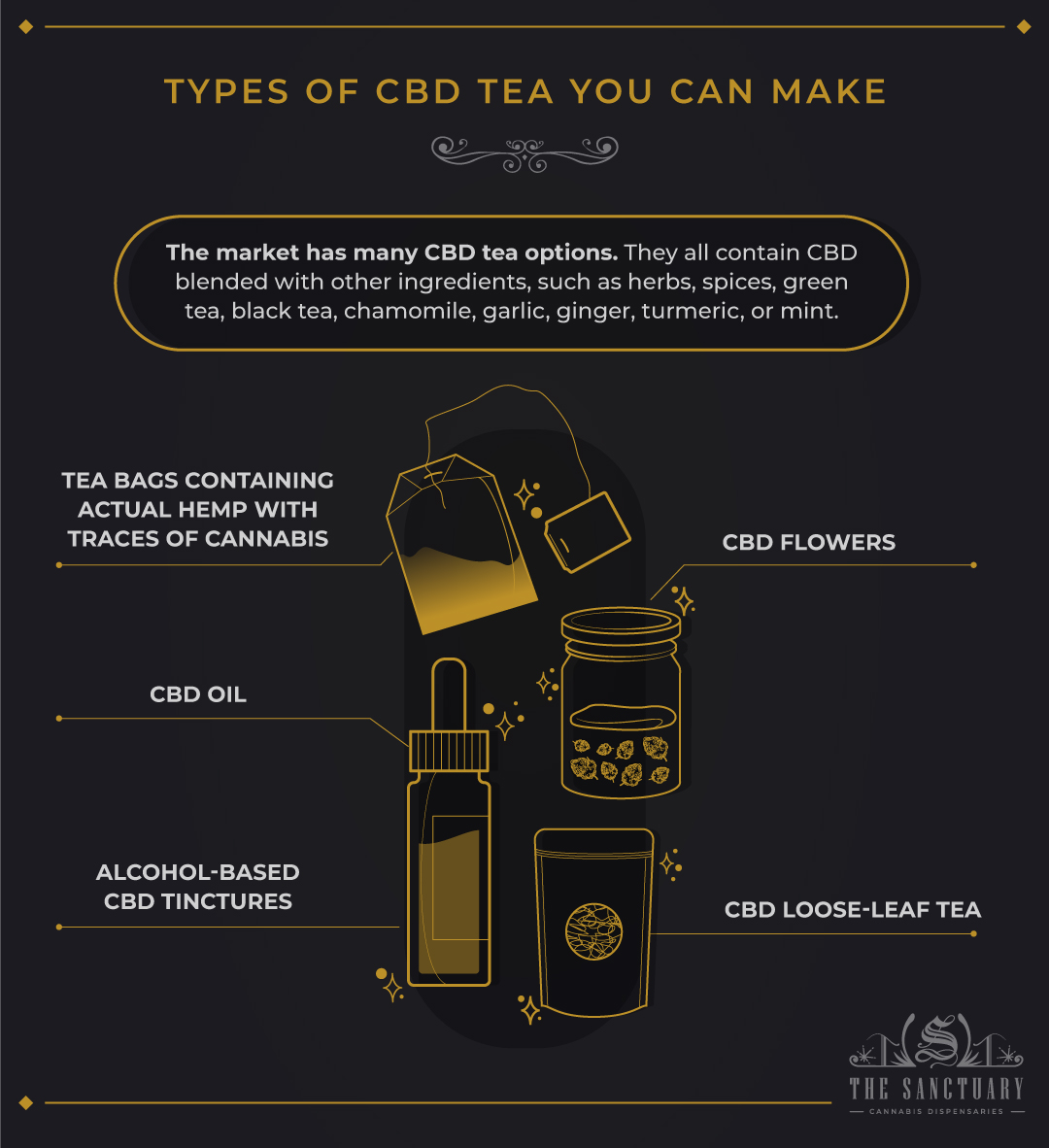 Considering CBD's growing popularity, the market has many CBD tea options. They all contain CBD blended with other ingredients, such as herbs, spices, green tea, black tea, chamomile, garlic, ginger, turmeric, or mint. The options are limitless!
Different types of CBD you can use for making tea include the following:
Tea bags containing actual hemp with traces of cannabis

CBD flowers

CBD oil

Alcohol-based CBD tinctures

CBD loose-leaf tea
Remember, commercially-made CBD teas usually differ in potency, measured in milligrams (mg). You will find CBD tea bags ranging between 5 mg and 65 mg, so choose any based on your requirements. 
Method 1: CBD Tea from Tea Bags
The first way to make CBD tea is through tea bags. This process is relatively easier and only requires you to dip the tea bag in water. The rest of the ingredients depend on your taste. 
Ingredients
One tbsp honey

One cinnamon stick

One lemon peel strip or lemon zest

One CBD tea bag

One cup of hot water

A splash of cream
Steps
First, gather all the ingredients and a mug.

Add cinnamon stick, lemon zest or peel, and honey to the mug.

Pour some hot water and the CBD tea bag and steep it for 5 minutes.

Add cream and remove the tea bag.

Stir well, and your tea is ready!
Important Tips to Boost Your CBD Tea's Taste
CBD tea works and tastes better when made with hot water. The compound needs heat to activate its

effects

. But if you still want a cold treat, you can chill a brewed cup of CBD tea.

You can substitute the honey with another sweetener, such as simple syrup, refined sugar, or agave nectar.

This recipe tastes great with different

CBD blends

, such as matcha powder, black tea, chamomile tea, herbal tea, mint tea, etc. 

You can also use coffee creamer, dairy, soy, almond, or rice milk instead of cream. These ingredients have a pretty high-fat content, giving an amazing taste to your CBD tea. 

Orange or lime peels make great substitutes for lemon. 
Method 2: CBD Tea from CBD Flowers
Making CBD tea from flowers can be a hassle, but this recipe is fun if you don't mind extra work. Make sure to follow the instructions carefully to execute this recipe the right way. 
Ingredients
A CBD flower

Loose-leaf tea or tea bag 

One baking sheet

Grinder

Parchment paper

Half a cup of boiling water

Infuser or strainer
Steps
The first step is to prepare your CBD flower through decarboxylation. The process activates the

flower's cannabinoids

to help it release its effects. Preheat your oven to 325°F and line the baking sheet with parchment paper.

Now, grind the flower, spread the powder on the sheet, and put it in the oven for 35 minutes.

Add the tea bag or loose-leaf tea to a cup of water and let it brew.

Put the decarboxylated hemp flower in the tea infuser and pour hot water in the cup over the ingredients.

Let your drink steep for up to 5 minutes or more, depending on how strong you want the tea to taste. But don't brew it for too long, or you may over-steep your blend. 

Remove the infuser from the mug.

Finally, add your favorite ingredients like coconut milk, sugar, lemon, or cinnamon to create a refreshing cup of tea. Enjoy!
Method 3: CBD Tea from CBD Oil
This method is super simple. You just have to make tea like usual and add a few drops of CBD oil at the end. That's it. However, you must consider the number of drops you add to your drink. 
If you add too much, you may have a higher potency. The ideal CBD dose for beginners is between 20 to 40 mg daily, but seasoned CBD users can tolerate higher doses. So, even if you go a bit generous with CBD oil, it won't hurt you.
It's best to start with smaller quantities, around 1 to 5 mg, and then increase the dosage depending on your tolerance. If you're reluctant, you can ask a healthcare provider's help on how to go about your CBD tea. 
You can drink CBD tea any time of the day, just as you do with your plain tea. Whether you want to improve your sleep quality or relax after a tiring day, add a few drops of CBD oil to your tea, and you're good to go!
One thing to consider is your eating schedule. It may affect how long the compound will take to absorb in the bloodstream, but not its effectiveness. Your drink may take 30 to 90 minutes to release its effects, lasting for 7 hours maximum. However, it will vary with every person, dose, and type of CBD oil used. 
Brew the mixture thoroughly to let CBD oil mix with the drink completely.
Conclusion
CBD tea is an easy, refreshing, and fun way to include CBD into your routine. Depending on your needs, you can drink it any time of the day to enjoy the therapeutic effects of the cannabinoids. 
Making CBD tea is even easier. You can make it through tea bags, CBD flowers, loose-leaf tea, or CBD oil; the ball is in your court. Just make sure to intake appropriate CBD dosages to enjoy your drink without getting high.