For many of those passionate about their cannabis experience, and for those looking for a new job, being a budtender sounds like a dream come true, and it can be! Any sales job of this type will have its busy days, sure: But picture recommending your favorite products to new customers and working in a team that likely shares your passions.
Now, you might be excited to apply at your neighborhood dispensary, until you start thinking to yourself that it will involve all of this training, all this studying and certification before you even land the interview. You read the title though, right? Yeah, you can do all of this in a weekend.
It does not take long at all to study for or even gain the certification for a budtending job. With the right gameplan, you can be more than ready by this coming Monday.
What does the Budtender Do?
Sell weed. The easiest way to put it, but that's not all.
Budtenders are the face of the showroom and the beginning and ending of your dispensary experience. Apart from sales, budtenders will display the products and new merchandise, fill prescriptions, answer all the customer's questions and make recommendations based on what the customer is looking for or what they need.
It may sound like the typical 'retail register' type of job, but being a part of the cannabis industry means an experience that is entirely unique to this sector of retail.
What kind of perks do they Get?
Employee discounts are always a given, but what is possibly the greatest benefit of being a budtender is the connection to the cannabis community: Selling and talking directly to fellow canna-enthusiasts and being right there with them through new changes of the industry.
Not to mention, your communication and sales skills will connect you to industry professionals, providing the most unique and rewarding networking opportunities you will have. Industry events, conferences and pop-ups can be more accessible with your badge, and you can win several awards by showing up and being the best budtender at your location.
Also, you get tips. Just saying.
How to Become a Budtender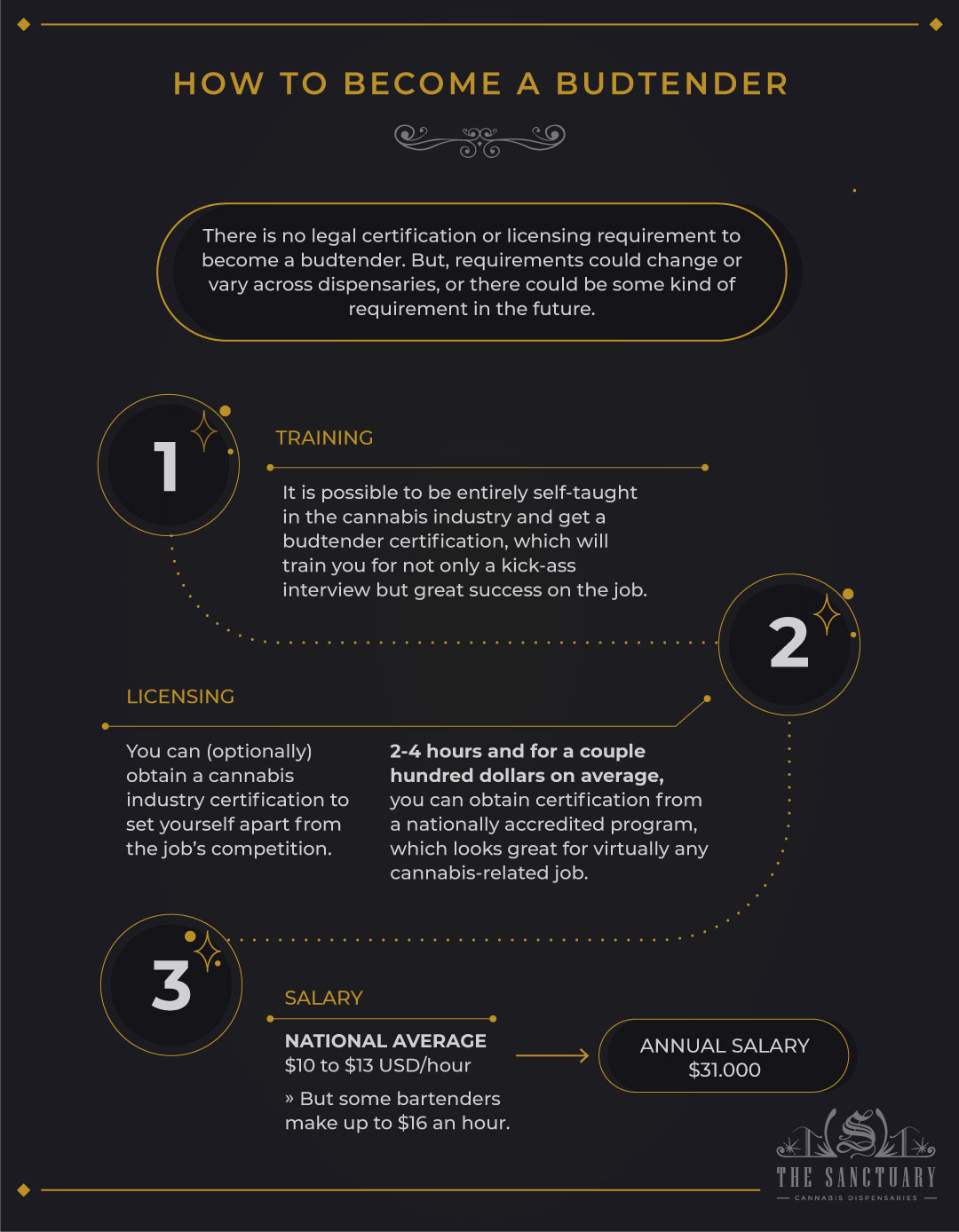 As of January of 2022, there is no legal certification or licensing requirement to become a budtender. But, requirements could change or vary across dispensaries, or there could be some kind of requirement in the future, should we ever reach legalization in all states.
However, everything that goes into becoming a budtender is not any more dense than any retail sales position: Completing all the applications and training programs, in one sitting, could be done over the course of a single weekend. Again, the dispensaries you apply to might not even be required to be a budtender, but at least having the certification(s) boosts you as a candidate.
Training
Once you get the job offer from the dispensary, 1) Celebrate and 2), it is when the actual on-the-job training starts, which can last however long their program requires. But if you are still in the stage of interviews and applications, this is the prime time for you to do your homework.
It is possible to be entirely self-taught in the cannabis industry and get a budtender certification, which will train you for not only a kick-ass interview but great success on the job. Honestly, YouTube with a pen and notebook will provide you with at least 75% of the knowledge for both cannabis and its industry innovation, while you can message or sit down with real dispensary employees to learn about the actual budtending job in the best way possible.
Licensing
Now that you have your foundational knowledge of the cannabis industry, you can (optionally) obtain a cannabis industry certification to put your knowledge to the test and set yourself apart from the job's competition.
2-4 hours and for a couple hundred dollars on average, which is inexpensive and short compared to other courses of its type, you can obtain certification from a nationally accredited program, which looks great for virtually any cannabis-related job.
This is also another reason to talk to your local budtenders before applying: You can find out which courses are the best, if they are also certified, and get some helpful study tips to help walk you through.
Salary
Lastly, talking with your budtender friends or a few web searches will tell you exactly what to expect as far as your future pay.
Some bartenders make up to $16 an hour while the 'national' average is anywhere from $10 to $13 per hour: The former would then put the annual salary around $31,000. This also does not include potential tips, bonuses or employee benefits that the dispensary offers.
From these numbers, you are actually making a bit more than the average cashier and would enjoy a nice raise if you are promoted to manager or other positions throughout the industry.
What experience do I need?
The ultimate conundrum for many job seekers out there is how to get a job without experience, knowing experience is scarce without a job. To break through this hellish cycle, do your due diligence of homework on the cannabis industry, practice your sales pitch and familiarize yourself with all the different products, potency and strains.
If you are lucky enough to have a few gigs on your resume, sales is basically your golden ticket along with customer service, and proficiency with POS systems and Office applications, since you will likely have to put together charts and menus.
Be (Industry) Trendy
Lastly, what is one of the things besides talent, brains and passion that make people gravitate towards you? In an industry associated with many trends, what puts you in the spotlight above the rest? Being a trendsetter.
Not to be confused with an influencer (though being a cannabis influencer could score you some points), but you are golden if you show that you keep up with cannabis industry trends, as well as standing out from others with your ideas and your appearance.
By far, the best job interviews you will ever have are the ones that just feel like normal conversations. So imagine the impression you will leave on a dispensary if the manager sees you, only a potential future employee, having a productive conversation about the latest cannabis laws or sales trends and asking rehearsed questions.
This industry may be very cool and laid back, but first impressions are still very important and showing this initiative to becoming a budtender will show that you are the best for the job.