In the past few decades, weed has been widely legalized and decriminalized across the nation. As of January of 2022, more than half of the United States has legalized weed for either medical or recreational use (or both): a feat that even the most passionate advocates in the 60s could only dream of at the time.
But which states in particular have legalized recreational use? Where, in the United States, can you legally purchase weed and smoke it in the comfort of your home (at least until more consumption lounges open)?
When was Weed first legalized in the US?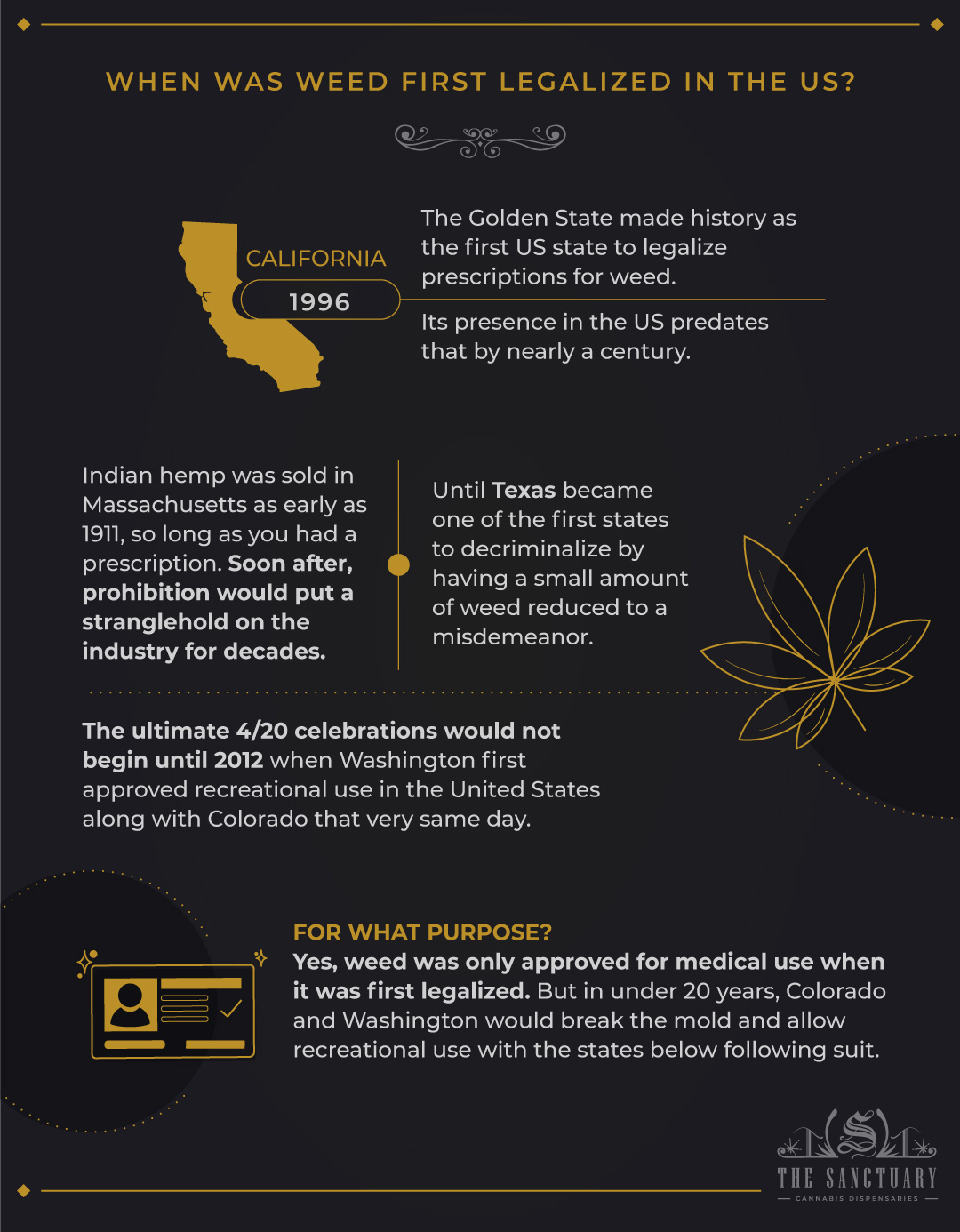 With an inarguable history and pioneering of cannabis culture, it comes as no surprise that California is where the legalization trend began.
In 1996, the Golden State made history as the first US state to legalize prescriptions for weed. However, its presence in the US predates that by nearly a century. Indian hemp was sold in Massachusetts as early as 1911, so long as you had a prescription. Soon after, prohibition would put a stranglehold on the industry for decades, until Texas became one of the first states to decriminalize by having a small amount of weed reduced to a misdemeanor.
The ultimate 4/20 celebrations would not begin until 2012 when Washington first approved recreational use in the United States along with Colorado that very same day.
For What Purpose?
Yes, weed was only approved for medical use when it was first legalized. But in under 20 years, Colorado and Washington would break the mold and allow recreational use with the states below following suit.
In what States is Weed Legal?
A grand total of 36 states have legalized it for medical use. Of those 36 states, 19 of them legalized both medical and recreational weed. So, if you are planning a cross-country trip and want to 'sample the vegetation' of different states, this is where you would want to go:
Alaska
First off, Alaska had legalized recreational use in 2015 after nearly decades of back and forth debate between decriminalizing and criminalization of possession.
Seeing as that very first year garnered millions of dollars in revenue while liquidating supplies across the state, Alaska's legalization had the ultimate payoff after such a runaround.
Arizona
Despite a pandemic, Arizona approved recreational weed in November of 2020 for sales to begin the following January. Medical use was signed into law a decade earlier but recreational use garnered even more support when the bill came to a vote.
California
Arguably the epicenter of weed culture in the United States but not the first to fully legalize.
California is actually such an advocate for legalization, you do not even have to be confined to your home to enjoy your hard earned weed products, but you do have to be at a designated consumption lounge and not a hotel or restaurant (yet).
Colorado
One of the very first states to legalize recreational weed, Colorado naturally became a centerpiece for the new dispensary industry.
Colorado's first year after fully legalizing resulted in nearly $1,000,000,000 in sales and laid out the foundation for how recreational laws should be done.
Connecticut
Better late than never: Connecticut legalized medical use in the summer of 2012 while the height of the pandemic marked their biggest steps forward in legalizing recreational weed.
Retail sales are expected to begin in Connecticut in May of 2022.
D.C.
Ironically, the city that wrote the prohibition laws banning weed has since legalized it for recreational sales, gifting and personal cultivation. The nation's capital still prohibits weed under federal law, but within the District of Columbia, you can possess and consume it at home.
Illinois
The size of the population in just Chicago alone helps project Illinois' future recreational sales at over $3,000,000,000 a year.
January 1st of 2020 marked the single biggest 'opening' day for recreational dispensaries in the country: Over $3 million in sales between 77,000 customers.
Maine
Maine's citizens voted to legalize recreational use and it was approved in October in 2020. Granted, this could have been approved earlier if not for the pandemic, but even that did not stop Maine's first year of weed sales to top $111 million.
Massachusetts
As with just most other states, you do not have to be a Massachusetts resident to buy recreational weed: You just have to be the legal age of 21 and have a valid ID.
Through the support of Massachusetts voters, weed was decriminalized in 2008 before recreational use passed in 2016 with an explosion of dispensaries opening the following years.
Michigan
In the same year as Massachusetts' decriminalization, Michigan legalized medical use but still had illegal possession punishable by one year in jail with a hefty fine.
That all changed in December of 2018 when recreational use passed with their first retail dispensaries opening the following year.
Montana
Montana voters got recreational weed approved in the 2020 holiday season, allowing for millions of dollars in sales over their first year.
However, not all counties voted to have recreational dispensaries, so the laws vary slightly depending where you travel to within the state.
Nevada
In the Sanctuary's home state of Nevada, recreational use was approved on New Year's Day of 2017. Medical use may have been approved nearly 20 years prior, but recreational use went through several attempts before the final green light.
The response led to such rapid growth for our cannabis industry that consumption lounges were approved only a couple years after Nevada's first dispensary opened its doors.
New Jersey
Similar to Alaska, New Jersey had a lot of runaround and debate surrounding legalization. So much so that proposed legislation with enough support was rejected due to lack of penalties for underage offenses.
However, consumption and possession is now approved for adults over 21 while cultivation (for the time being) is prohibited.
New Mexico
New Mexico's governor signed recreational use into law in the summer of 2021, allowing the states first recreational sales to take place in April of the following year.
A small number of businesses actually qualify for consumption on the premises but you cannot possess more than two whole ounces if you are out in public.
New York
As of October of 2021, New York employers can no longer drug test for weed and do not discriminate against employees who partake outside of work.
Adults 21 and over can now possess up to 3 ounces of the green stuff without penalty and previous, nonviolent sentences involving weed have been expunged statewide.
Oregon
Historically the first state in the US to decriminalize weed, Oregon legalized recreational use with relative ease in an emergency bill allowing for non-medical sales, resulting in nearly 300 new applications for licensed recreational sales.
Vermont
In Vermont, you can possess up to 5 grams of weed or hash without penalty (if you are of legal age). The state approved medical use back in 2004 while recreational use came just in time for the 4th of July weekend in 2018.
Virginia
Virginia approved for adults to consume recreationally in July of 2021, nearly one year to the day of approving their 2020 decriminalization bill.
While each adult can possess up to an ounce of weed, Virginia residents are allowed to grow up to four pot plants per household as of the passing of this bill.
Washington
The other Washington (technically), Washington is a historical landmark for US weed culture as the first state in history to approve recreational use: merely three hours before Colorado.
Today, adult consumers are allowed to have 7 grams of weed or concentrates while up to 21 grams are allowed for medical use.
The 4 (Legalized) Territories
Just outside of the contiguous United States, Guam, the Northern Mariana Islands as well as Washington D.C., while weed has been decriminalized throughout the Virgin Islands and approved for medical use.