Despite federal law prohibiting the use of cannabis, there are many states with their own medical marijuana programs. Medical marijuana programs allow qualified patients to access cannabis from state-sanctioned dispensaries once certified by a qualified medical professional.
Nonetheless, not all medically-approved states accept licenses from those who are not permanent residents. In fact, fewer than half of states that allow recreational weed have a reciprocity agreement. However, you can still buy recreational cannabis in these locations if you are over the age of 21.
Medical marijuana programs
States with medical marijuana programs have passed legislation through their government to legalize the use of cannabis for medicinal use. These states have unique rules about who can grow, sell, and use medical cannabis.
Each state runs its medical marijuana program independently. Everything regarding cannabis laws is up to them.
In many recreationally legal states, there are still programs exclusive to medical marijuana patients that provide them with access to higher potency products, greater cultivation allowances, and the ability to purchase more cannabis at one time.
Medical patients can also have lower taxes on cannabis products than recreational users. In states where the recreational use of cannabis is legal, the biggest tax is an excise tax. It is usually a percentage of the retail price. And these tax rates will vary depending upon which state you are in.
For example, Nevada imposes a 10 percent excise tax whereas Washington state is a whopping 37 percent.  Some states and localities also impose more taxes on top of the excise tax such as a general sales tax. There can also be an additional cultivator tax that you will see in some states such as Nevada and Colorado. If you have a medical card, you will most often be exempt from a large portion of these taxes.
What is medical cannabis reciprocity?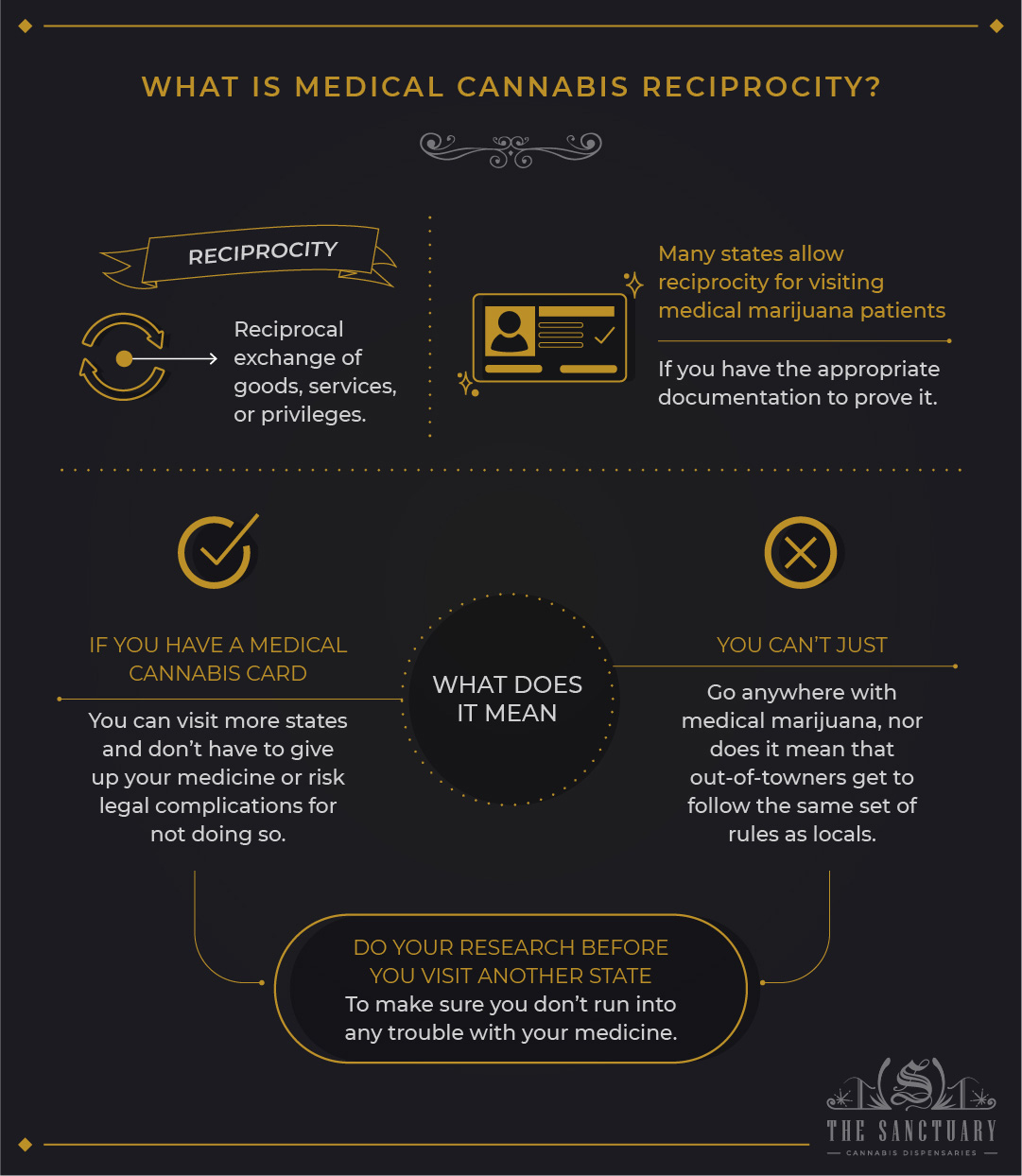 The term "reciprocity" means the reciprocal exchange of goods, services, or privileges. When it comes to medical cannabis, many states allow reciprocity for visiting medical marijuana patients provided they have the appropriate documentation to prove it.
This means that people with a medical need for cannabis can visit even more states without giving up their medicine or risking legal complications for not doing so. It does not mean, however, that they can go anywhere with medical marijuana, nor does it mean that out-of-towners get to follow the same set of rules as locals.
For example, a law passed in 2014 in Nevada allows for the state to recognize medical marijuana recommendations issued in other states, thereby enabling its tourist-driven economy.
Can you get a medical card if you do not live in that state?
Attempting to obtain a medical card in another state can be risky, especially if medical cannabis is not legal in your home state. Bypassing your own state's laws by seeking a medical card from another state could result in charges for illegal possession and even drug trafficking.
The only way to legally obtain a medical card is to be a legal resident of a state where medical marijuana is permitted.
States that allow cannabis reciprocity
Many traveling patients want to know if their card can be used in other states besides the one it was issued in. Not all states allow cannabis reciprocity, so it is important to know which do. The states that allow it include:
Arizona
For a state with some of the strictest marijuana laws in the country, it is no surprise there is a catch here. You can enjoy your medicine while in the state, but if you run out, you are out of luck. If you obtained marijuana from the state your card was issued in, you are free to possess and use it in Arizona without penalty.
However, according to The Arizona Department of Health Services, "a visiting patient is not authorized to obtain marijuana from a dispensary because the dispensary is required in statute to access a verification system before dispensing marijuana."
Arkansas
If you are visiting Arkansas, or have been a resident for less than 30 days, you can buy weed "from a dispensary with the completion of a visiting patient form and producing evidence of his or her registry identification card or its equivalent," according to the Arkansas Department of Health. You must have your medical card with you, and adhere to the limitations on possession, which allow up to 2.5 ounces of cannabis every 14 days.
Hawaii
Anyone looking to take a vacation to this tropical paradise may be excited to hear that Hawaii will now be accepting out-of-state medical cards.
However, there are some limitations to this. Medical cardholders will have to apply for a temporary card that will be valid for up to 60 days and must have a "debilitating condition" as defined by this list. If you wish to apply for a temporary card you may register here.
New Hampshire
Much like Arizona, this state allows qualified patients to possess marijuana but does not allow for purchase within the state. You can have up to two ounces, and will not be able to visit a dispensary to get more if you run out.
New Mexico
In 2020, New Mexico initiated a widespread reciprocity program. It allows medical cardholders in every state with an active medical cannabis program to legally purchase from New Mexico dispensaries. New Mexico native tribes, D.C., and U.S. territories are also included.
You only need proof of a doctor's authorization in your state rather than producing a card. Qualifying patients can possess up to eight ounces in 90 days. Moreover, out-of-state cardholders are allowed to buy marijuana for conditions other than what qualifies in New Mexico.
Oklahoma
Medical marijuana patients from other states may possess and purchase cannabis from Oklahoma but they must apply for a temporary patient license. Temporary licenses are valid for 30 days but are not eligible if they exceed the expiration date of the patient's state-issued medical card.
A temporary patient application costs $100, and a license can be renewed after 30 days. The application requires documentation of the out-of-state license, proof of identity, a clear photograph of the patient, and other personal details.
Pennsylvania
There is one loophole that allows medical marijuana patients to obtain cannabis from Pennsylvania, but it only applies to parents or legal guardians of patients under the age of 18.
Under Pennsylvania law, it is legal for parents or guardians to purchase cannabis out of state, for the sole purpose of administering it to the minor. Unfortunately, this portion of the law is set to be repealed in the next two years.
Rhode Island
Dispensaries in Rhode Island began selling to out-of-state medical marijuana patients in 2018, and they keep the rules pretty simple. You will need to present two forms of government ID, and you must already be in a state database that tracks sales. Out-of-state patients can have up to 2.5 ounces of cannabis every 15 days.
Utah
The state of Utah legalized medical cannabis in December 2018. Sales did not begin until March 2020. Currently, Utah accepts out-of-state medical cards. However, you need to have one of the qualifying conditions to be eligible.
New residents that have lived in Utah for less than 45 days can also use an out-of-state card. However, the card only allows them to possess marijuana. They cannot purchase it from a Utah dispensary. When the 45 days are up, they have to apply for a Utah medical cannabis card. Patients are allowed up to four ounces of cannabis.
Washington, D.C.
In the District of Columbia, there is a reciprocity agreement. Out-of-state medical cards are accepted if your home state has a program that is functionally equivalent to the Washington, D.C. program. Patients in DC can possess up to two ounces of cannabis flower.
Unlike many states with programs, however, you must be at least 21 years old to be eligible, rather than 18.
Puerto Rico
The US territory of Puerto Rico has an emerging medical cannabis industry that is welcoming to visiting tourists who possess valid medical marijuana cards from their home states. Puerto Rico allows medical cannabis reciprocity and sales to any registered U.S. patient.