If you are a passionate cannabis connoisseur, you have more than likely come across some… interesting names for weed, in both strains and nicknames (no joke, there is a strain called Purple Monkey Balls). Another hilarious name you might have heard in passing is Horny Goat Weed. But the question is, what exactly is it?
Well, sorry to break it to you but it is not weed (from a cannabis plant) despite the name. What might be the funniest thing about horny goat weed is that its name almost perfectly summarizes the result you get from taking it. Yes, that means exactly what you are thinking.
What is Horny Goat Weed?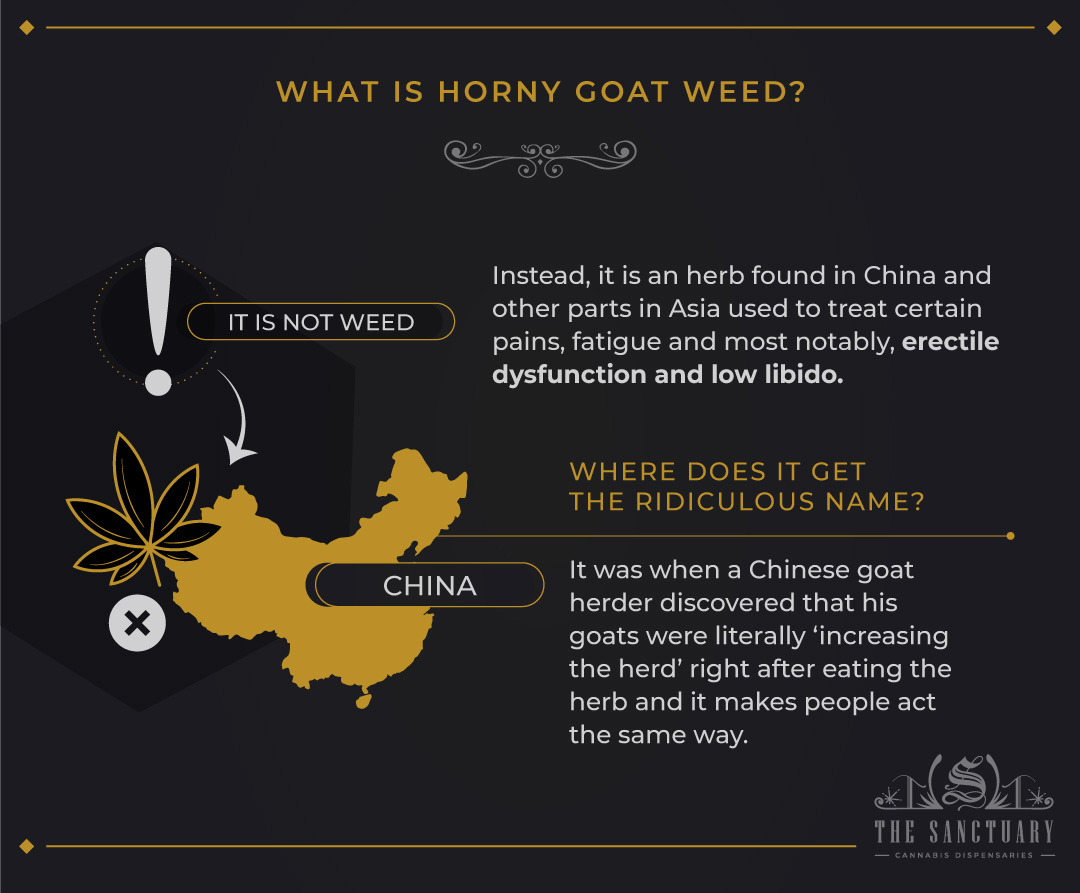 Contrary to its name (sort of), horny goat weed is not a stain of cannabis flower. Instead, it is an herb found in China and other parts in Asia used to treat certain pains, fatigue and most notably, erectile dysfunction and low libido.
Horny goat weed, a member of the Epimedium genus, has also been known to treat osteoporosis and even hay fever, but is most commonly used to improve sexual performance. Ironically, this is basically where the herb gets its name.
Where does it get the ridiculous name?
Since its traditional name comes from China (yin yang huo) and its botanical name is Greek, how the hell did we get the street name 'horny goat weed'? You have probably guessed, but that name comes from goats. It was when a Chinese goat herder discovered that his goats were literally 'increasing the herd' right after eating the herb and it makes people act the same way.
Not to mention, female goats (does) go into heat every 21 days while male goats tend to breed fast and are 'in the mood' basically at any given moment, so long as they can at least smell when the female is in heat. Because of this, it is no wonder why we have the phrase 'horny goats' for people trying to have a lot of sex.
What is Horny Goat Weed Like?
Again, horny goat weed is not a strain of cannabis, so your experience taking it will be extremely different. To put it this way: It most commonly comes in pill form, like a capsule or tablet. True, there are THC capsules, and CBD tablets are common for medical use, but it is far more common to smoke, dab or take edibles to get the good stuff.
That is simply not the case with horny goat weed: There is no THC or cannabinoids, so no way to get high from it, and the benefits are very different from most strains of weed.
The Herb
The Benefits
The lines between something like horny goat weed and an aphrodisiac are extremely thin but essentially, aphrodisiacs increase sexual attraction and pleasure, whereas horny goat weed and medications of the sort improve sexual performance: The former makes sex better, the latter makes you want more sex. Horny goat weed in this case is the latter.
The effect it has on men is obviously that it improves erections and stamina during sex, as well as a libido boost in general. The same thing has been said for women who take the herb (though not many studies have confirmed it), as some women have shown to have increased libido and estrogen after their doses.
Horny goat weed may not be fully approved as a libido or ED medication, but evidence suggests that it could be a top-tier alternative to patients with these issues along with osteoporosis, fatigue, joint pain and in some cases, hay fever.
The Taste
Part of what arguably makes horny goat weed desirable over medications is the taste. Being a fairly neutral tasting herb, it is not too overpowering nor is it completely bland. Consumers and patients have reported that it has a mild herb taste that does not overstay its welcome (no weird aftertastes over here).
On top of that, horny goat weed is often consumed as a powder, and one of its most consistently positive notes among consumers is that it is great as a tea. A natural herby taste with a hint of fruit, but subtle enough to be mixed into regular tea without killing the flavor.
(Possible) Side Effects
It should come as no surprise that every form of medicine has some kind of side effect, especially in high doses, so what does that look like for horny goat weed? To put it simply, its side effects can include dizziness, dry mouth or a mild increase in heart rate: None of which have shown or have been signs of any long-term side effects.
Horny goat weed has not been linked to any cause of death or any kind of permanent damage, but it is recommended to speak with your doctor before you buy it and see if it will work for you. Doses higher than the manufacturer-printed label often say this increases the risk of breathing problems or muscle spasms, so always use as directed.
What Should I not take with Horny Goat Weed?
A general rule of thumb is not to mix a lot of various medications anyway, but studies have shown that horny goat weed can react negatively in conjunction with other meds.
Aspirin, birth control pills and some blood thinners are not recommended while taking the herb, as well as pills for high blood pressure or blood clotting, which makes sense seeing as the herb 'redirects' your blood flow. Because of that, one thing to especially stay away from while taking this is nitroglycerin.
What's the Recommended Dose?
Interestingly, there is no general consensus on what is a proper dose from the herb, but the label on the bottle (should you have the over-the-counter pills or capsules) will tell you how much you should take per day.
If you look at a brand like Nature's Craft for example, they would say a 1000mg capsule should not be taken more than twice daily, or as directed by your physician. Again, this is not the same across all manufacturers and the dose changes from pill to powder form. But either way, you will have to wait a couple weeks (a month at the most) to start seeing the results.