Growing your own cannabis plants is both enjoyable and rewarding. Sure, it is not an easy task to complete, but if done successfully you can be left with lots of organic homegrown dank. There are many ways to grow weed and many decisions to be had. First and foremost is deciding whether you would like to start your grow from seeds or clones.
Growing from seeds is perhaps the most traditional method and experienced growers like them because they have the ability to be cross-bred into new and unique hybrid strains.
You may have found a seed or two in your weed stash and have been tempted to plant it. However, this is not the best way to go. Investing in quality cannabis seeds from the start can potentially save you money and stress in the long-run.
When you buy seeds from a respected seed bank, you are paying for guaranteed quality. Established seed banks have teams of dedicated breeders and growers constantly working to improve their genetics. That means, after germinating your seeds, you can rest assured that your plants will grow strong and healthy and should reward you with good yields of top-shelf bud
However, understanding the cannabis seed market can be challenging because cannabis is federally illegal and therefore the amount of regulation on seed banks is limited.
Is it legal to buy cannabis seeds?
In the United States, the legality of weed seeds depends on which state you reside in. In the eyes of the law, they are categorized as a weed product just like flower, concentrates, and edibles. People can purchase, sell, and produce seeds if they live in a legalized state, but seeds are prohibited from traveling across state borders.
It is nearly impossible for US seed banks to operate to their full potential due to these restraints. It is also illegal to bring seeds into the US from other countries. They will be seized by customs so companies get around this is by selling their product as "souvenirs."
Many of the online seed banks that are open for business are in countries like Canada, the Netherlands, or the U.K.
Cannabis seeds by genetics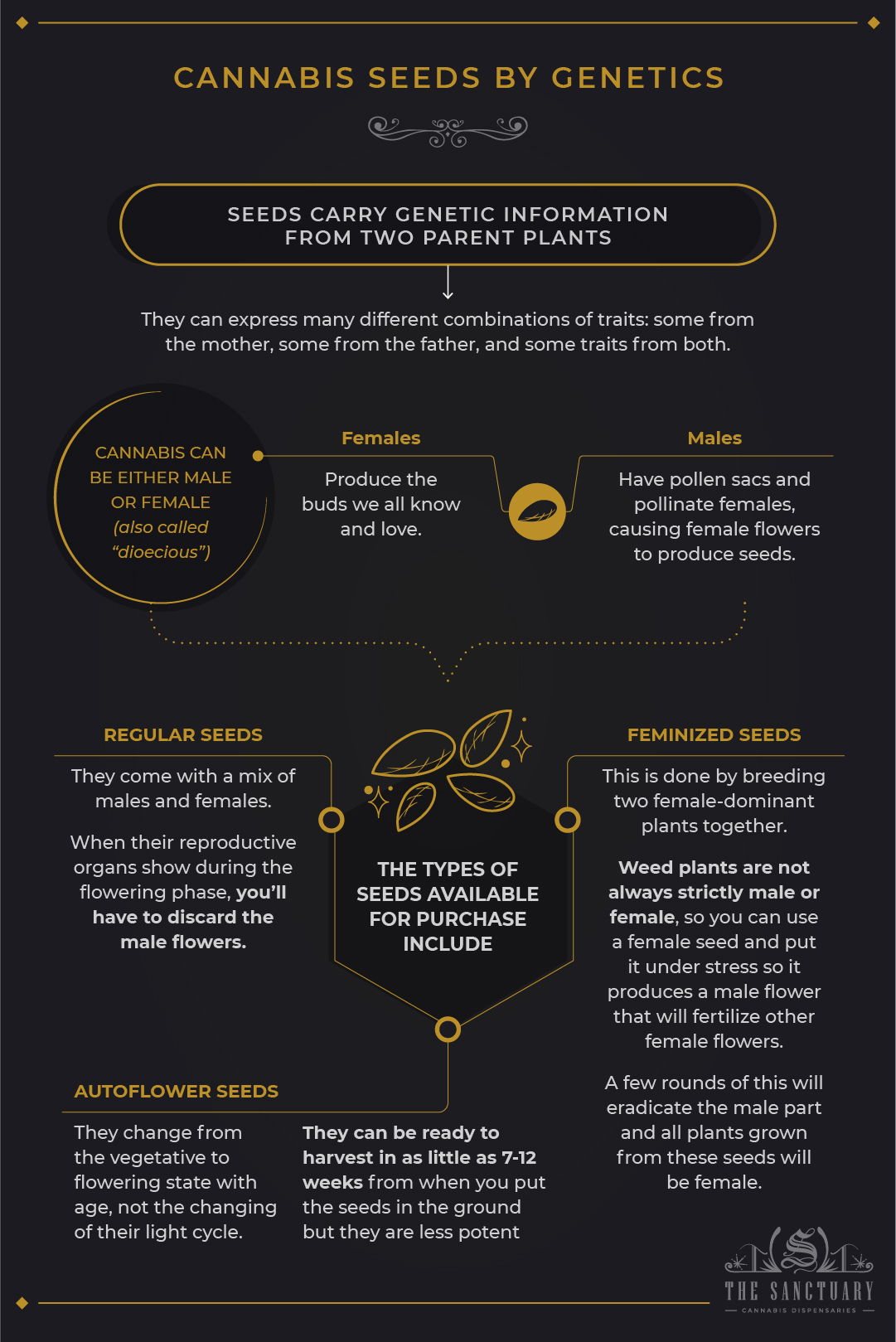 Seeds carry genetic information from two-parent plants and can express many different combinations of traits: some from the father, some from the mother, and some traits from both.
Weed can be either female or male (also called "dioecious") but only females produce a psychoactive flower. Males have pollen sacs for reproduction and female pollination
The types of seeds available for purchase include:
Regular seeds: A package of regular seeds includes a mix of females and males. This is how many cultivators prefer to grow because they are pure seeds that are not backcrossed (inbred) like how autoflower or feminized seeds are created. When the seed's reproductive organs start showing around the flowering stage, you will have to sex them out to get rid of the males. Male plants will pollinate females, which will result in buds with seeds.
Feminized seeds: Only female cannabis plants produce flower that contains cannabinoids. Seeds are feminized by crossbreeding two female-dominant plants together. Cannabis plants are not always purely female or male. Under specific conditions, each plant is capable of producing flowers of either sex. The process of expelling the male chromosomes involves taking a female plant and interrupting its light cycle which puts it under stress until it produces male flowers. That female-male hybrid plant is then used to fertilize a different female plant. The male part of the plant eventually becomes extinct after doing this process a few times. The result is a plant that only creates female seeds.
Autoflower seeds: Autoflower plants evolve through their life cycles via time rather than a light schedule like regular plants. They grow smaller and much faster than other seeds with the ability to be harvested in around 7-12 weeks from the time you plant them. A con with autoflower plants is that they yield smaller amounts and are less potent.
Cannabis seeds by strain

Sativa seeds: The effects of a sativa strain is euphoric, energetic, and uplifting. They grow tall and thin while taking a longer time than indicas to become mature. They yield more buds as compared to indica plants, but generally have a lower percentage of THC.
Indica seeds: The high from an indica strain is more of a body high that includes feelings of calmness and relaxation. They grow bushy and more compact and need less time to fully mature. Indica strains are usually higher in THC.
Hybrid seeds: A combination of both sativa and indica strains, hybrid seeds are regarded as elite seeds because they have the best traits from both species.
Top 7 recommended seed banks
As the demand for cannabis seed banks grows, so too does the number of people who look to take advantage of them. There are thousands of online cannabis seed companies on the internet that will sell you bogus seeds. Because you cannot tell the quality of a seed just by its looks, it is imperative to only buy seeds from reputable banks.
The following is a list of the top recommended seed banks based upon reviews and ratings, all available online for convenient and discreet purchasing.
Seedsman's reputation stands above other online seed banks. They are known to sell only the best seeds that come from different breeders from all over the globe. It is perhaps the most famous of the seed banks but still has very competitive prices.
Pros:
They take a number of payments such as cryptocurrency. In order to conduct a monetary transaction and be discreet, cryptocurrency is the way to go.
Global distribution, except for countries with weed bans.
Packages are sent out with inconspicuous and protective packaging.
They have a loyalty program that offers up to a 20 percent discount on large orders. European residents get free shipping.
The website is simple to navigate and the organization is intuitive.
Cons:
Once you choose a payment plan you are stuck with it.
If a package from Seedsman gets confiscated they will accept no responsibility and present no refund.
In 1999, MSNL was the first company to enter the market for seed banks. They are a top-notch seed distributor and manufacturer.
Pros:
Options to purchase wholesale for large-scale commercial growers.
Elite genetics.
Discreet shipping.
Highest quality weed strains at great prices.
Value pack options allow newer growers to experiment risk-free.
Many different options for payment.
Cons:
 MSNL does not provide a product guarantee in case the seeds do not grow.
Only sells their own cultivated strains, so the selection is limited.
Started by a man named Robert Bregman who has been growing weed for over 25 years. ILGM is a grassroots company whose mission statement is all about helping the fellow grower. ILGM certainly has the reviews and ratings to back up its high regard.
Pros:
Seed germination is guaranteed or else they will send you new ones.
Guarantees delivery, and in case of any issues, it ships them again for free.
Free shipping to Canada, Western Europe, and the U.S.
Seeds come in discreet packaging.
ILGM's VIP program gives access to exceptional quality strains, huge discounts, and other perks.
Accepts cryptocurrency and other forms of payment.
They offer customer support 24/7.
Forum on its website dedicated to growers.
Cons:
Smaller selection than some of its competitors.
New Zealand and Australia shipping fees are $25 with an order cost of under $150.
Shipment tracking is an additional cost of $25.
Popular seed bank with a stellar reputation. Crop King offers a more extensive selection than some of the other banks on this list. They sell genetics that are modern and innovative.
Pros:
If less than 80 percent of their seeds germinate then they will send you more or give your money back.
Huge variety that includes feminized and autoflowering seeds.
Offers seeds with high levels of CBD.
Highly rated customer support.
Cons:
Pricier than most other seed banks.
Layout of their website is not very good.
Are you looking to grow cannabis for the first time? To help you make the right decision, Sensi Seeds curated a special selection of cannabis seeds for beginners, all of which are resistant to the most common mistakes. These seeds are also suitable for experienced growers who are trying out a new grow space or cannabis cultivation method.
Pros:
It is a highly established venture with a history of outstanding quality seed distribution for recreational and medicinal purposes.
It offers discreet shipping and delivers seeds with full confidentiality.
A considerable variety of options are available both for beginners and experienced cultivators.
It provides exceptional customer service.
Cons:
The company's shipping time is often longer due to the vigilant delivery processes.
The seeds are costly compared to other seed banks.
Established in 2012, The Vault has risen to become the best-known and trusted cannabis seed shop in the world. The Vault is passionate about delivering fanatical customer service and supplying only the best quality seeds safely to your door.
Pros:
It has an enormous variety of seeds and has thousands of strains.
The store has connections with more than 100 breeders.
It provides free guaranteed delivery.
It offers to ship to its customers anywhere in the world.
They are 100 percent discreet, secure, safe, and have a satisfaction guarantee.
It has top-of-the-line customer service.
Cons:
It does not provide any germination information to customers since marijuana seeds germination is illegal in the UK.
QCS has a website that was specially designed for people with prior experience in cannabis seed growing. Their website has been up-and-running for 15 years or more now, however, the fact is that QCS has been supplying all of Canada (and even the rest of the world) with some pretty high-quality seeds for almost 20 years.
Pros:
Credit card charges are under a non-obvious company name.
20 percent Bitcoin payment discount.
More than 15 years of seed bank experience.
Stealth shipping.
A variety of autoflower, regular, CBD, feminized, and mixed seeds.
US customers can pay in USD.
Cons:
3.8 percent credit card payment fee.
Minimum $70 order amount.
Only one $10 standard shipping option
The website is a bit less sophisticated than some others