If you have just become eligible to visit a dispensary, you should consider some essential things beforehand. Knowing the types of cannabis products, your state's regulations and different payment options is vital to make the most of your time and effort. 
While some dispensaries require first-timers to fill out paperwork, others ask for a valid driver's license. So it's best to be prepared to ensure that your first experience is smooth sailing. Don't worry; once you understand the basics, you'll be ready to enjoy the dispensary experience. 
Here is what you need to know before your first dispensary visit:
Before Going To the Dispensary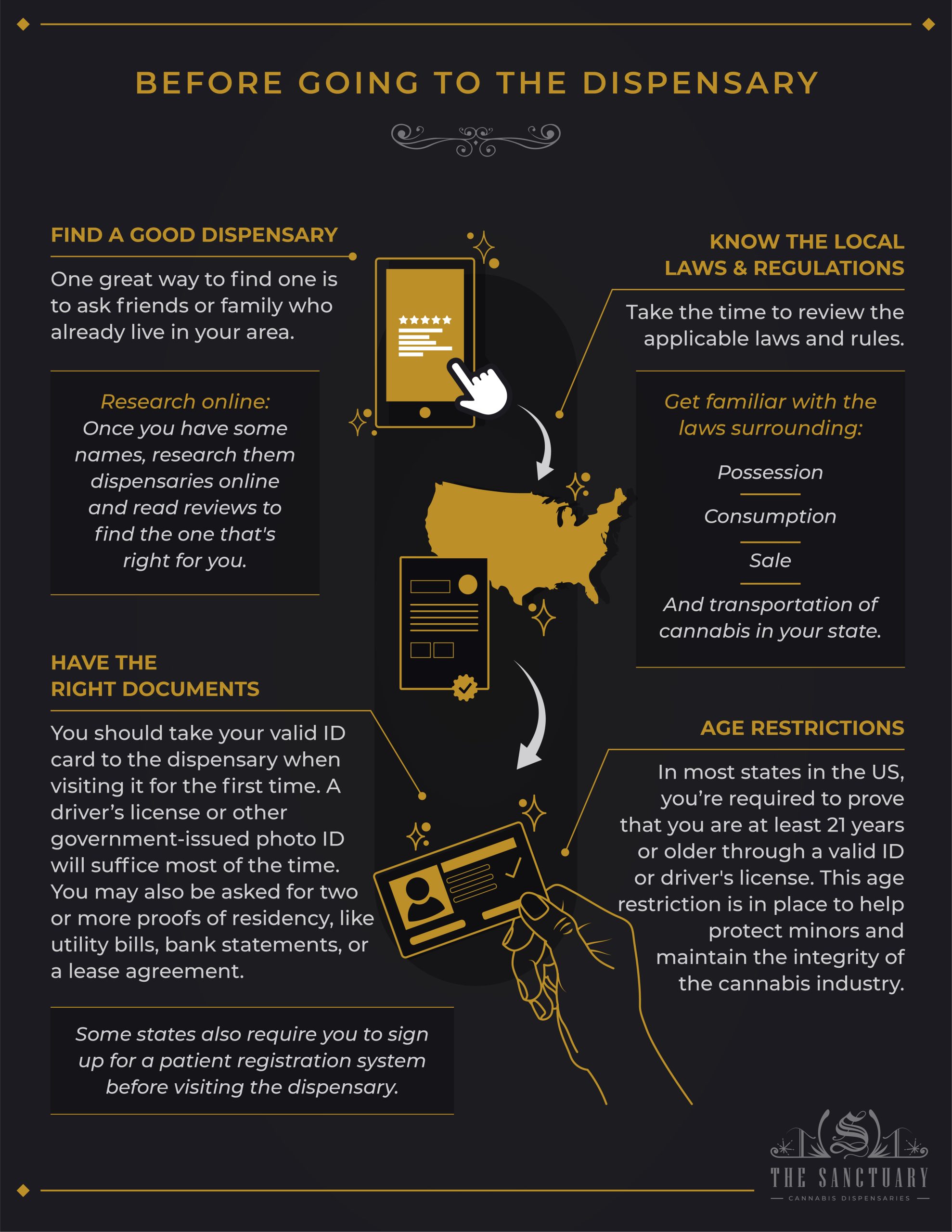 Here is a checklist to follow before going to the dispensary:
1. Find a Good Dispensary
Finding the perfect dispensary to fit your needs can be a daunting task. But you can use several resources to make the process easier. 
One great way to find a good dispensary is to ask friends or family who already live in your area. They will have first-hand knowledge of local dispensaries and may even be able to provide recommendations. Once you have some names, you can research those dispensaries online and read reviews to find the one that's right for you. 
2. Know the Local Laws & Regulations
Shopping for cannabis can differ significantly from state to state, so it's essential to understand the governing laws before hitting the dispensary floor. For instance, depending on the state you're located in, the following restrictions may apply: 
Limitation to a specific quantity and strain of cannabis product

Age restriction to purchase a medicated product

Show the ID or a medical marijuana card at the time of purchase

Policies regarding possession and consumption
Before heading to your local dispensary, take the time to review the applicable laws and rules. This can include researching the state's cannabis website and getting familiar with the laws surrounding the possession, consumption, sale, and transportation of cannabis in your state.
3. Have the Right Documents 
You should take your valid ID card to the dispensary when visiting it for the first time. A driver's license or other government-issued photo ID will suffice most of the time. You may also be asked for two or more proofs of residency, like utility bills, bank statements, or a lease agreement.
These documents prove that you are who you say you are and that you are of legal age. Some states also require you to sign up for a patient registration system before visiting the dispensary. Check with your local dispensary for more information about the required documents.
4. Age Restriction
In most states in the US, you're required to prove that you are at least 21 years or older through a valid ID or driver's license. This age restriction is in place to help protect minors and maintain the integrity of the cannabis industry.
After Reaching the Dispensary
Once you reach the dispensary, you should know how to talk to the budtender to buy the right product for yourself. Below are some tips to remember:
5. Collect Product Knowledge 
Familiarize yourself with the different types of cannabis strains. There are indica, sativa, and hybrid strains. Each strain has unique effects, ranging from relaxation and improved focus to energetic stimulation and creativity. 
Once you have chosen a strain, you should determine the proper dosage for your needs. Different forms of cannabis, such as oils, edibles, vaporizers, and topicals, have different absorption rates and potency levels. If you are unsure how much to take, your dispensary staff will recommend the best method for your body and overall experience. 
6. Be Clear About Your Expectations
With a list of options you'll find at your local dispensary, it's important to be confident about your expectations. That's the best way to find the right product for your needs. So, answer the below questions:
What kind of experience am I looking for? 
7. Know What To Ask the Budtender
Asking the right questions can help ensure you get the best products and the highest quality cannabis. Here are some critical questions to ask the budtender:
What are some must-have items you suggest for new cannabis users? Knowing the basics will help you get started on the right foot. 

What kind of strains do you have in stock? Different strains have different effects, so ask about current inventory and availability. 

What other products do you offer aside from cannabis? Many dispensaries provide various products, including edibles, topicals, and concentrates.

What's the price range of your products? Knowing the price range will help you find something within your budget. 

Are there any

special deals or discounts

available? Don't forget to inquire about any discounts or special deals. 

Are there any related services available at the dispensary? Find out if the dispensary offers services such as

delivery

or cannabis education. 

Can I learn more about cannabis consumption methods? Ask the budtender to explain your options for cannabis consumption and advise you on the best methods for your needs. 
8. Payment Methods
When visiting a dispensary for the first time, it's important to learn about their payment methods beforehand. Cash remains the most common and convenient payment form, but some dispensaries also allow other options. Most dispensaries only accept cash, so you must have the exact amount you need. 
Some dispensaries also allow debit card payments. It's better to check in advance to confirm if your dispensary accepts debit card payments. Over the years, cryptocurrency has become increasingly popular as a payment method at dispensaries. 
Always check with the dispensary about the accepted payment methods beforehand.
Be Confident About Your Dispensary Purchase
The most important thing to remember when going to a dispensary for the first time is to be confident. So, never shy in asking questions from the budtender or the dispensary staff, and make the most out of your visit!