Edible weed is a famous treat in the cannabis-lovers community, and the most common one is weed brownies. These brownies need no special introduction. Moreover, weed brownies are the safest edible cannabis.
You can also prepare weed brownies at your home. However, you must know a few things before making DIY cannabis brownies.
People often bake brownies containing weed when they can't access a licensed cannabis dispensary. So if you are craving weed brownies, this article will help you bake a dozen of them.
THC and CBD in Weed Brownies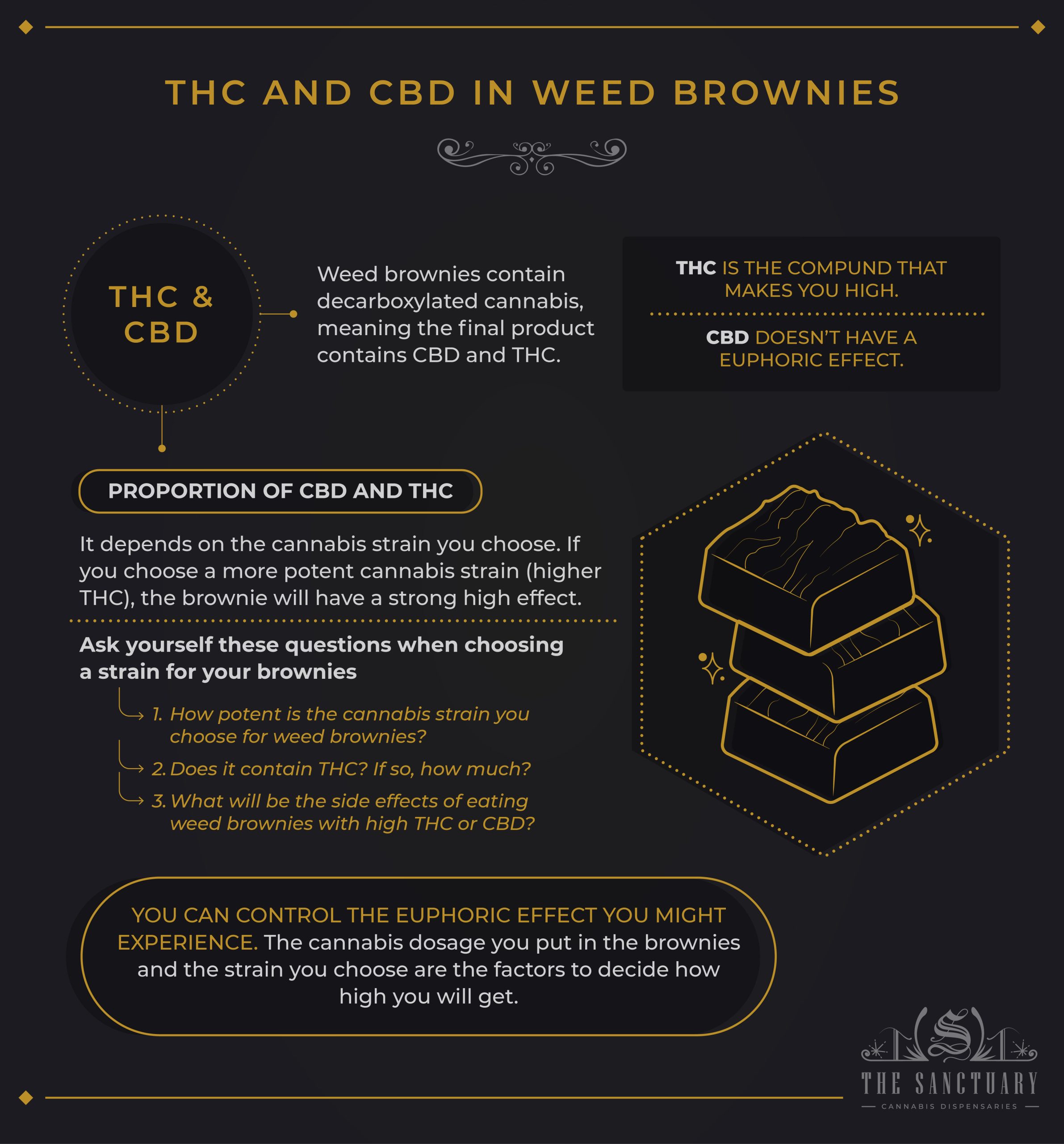 First, you must know that weed brownies contain decarboxylated cannabis, meaning the final product contains CBD and THC. THC is the compound in marijuana or weed that makes the consumer high. On the other hand, CBD doesn't have a euphoric effect.
The proportion of CBD and THC in edible cannabis, such as weed brownies, depends on the cannabis strain you choose. If you choose a more potent cannabis strain, the brownie will have a strong high effect.
In that case, you should know how to recover from weed edibles if you have selected a cannabis strain containing a high ratio of THC.
Although the brownies will give a chocolaty taste, weed will do its work regardless if it's a marijuana-laced chocolate brownie or any other edible. Therefore, find yourself the answers to the following:
How potent is the cannabis strain you choose for weed brownies?

Does it contain THC? If so, how much?

What will be the side effects of eating weed brownies with high THC or CBD?
The best way is to consult a weed brownie expert or a person from the cannabis dispensary. They will guide you about the potential risks of weed brownies.
Remember that you can control the euphoric effect you might experience after eating weed brownies. The cannabis dosage you put in the brownies and the strain you choose are the factors to decide how high you will get after munching the weed edibles.
Preparation for Weed Brownies
Here's a comprehensive guide on how to make weed brownies. This section includes the general methods, including kitchenware, ingredients, decarboxylation of cannabis, and baking.
Kitchenware
You might not need to buy any utensils if you bake desserts in your home once a month. Your kitchen will have almost all the tools required to make weed brownies. Here's the complete kitchenware list:
4 medium-sized bowls

2 large whisks

Aluminum foil or parchment paper

Nonstick cake pan
You can also use an automatic mixer to avoid manual effort. Remember that an automatic whisker is an expensive tool.
Ensure you have another set of whisks available to mix wet ingredients.
Ingredients
Making desserts is easy, especially brownies. It doesn't matter if you include weed in the brownies or not, the process remains easy as a piece of cake.
The ingredients are available in your nearest general store. So write the following list of ingredients to buy if anything is missing from your pantry.
Dry Ingredients
The following dry ingredients are commonly used in baking a cake:
Sugar

Flour

Salt

Baking Powder

Finely ground weed

Cocoa Powder (unsweetened)
Wet Ingredients
Here are the wet ingredients you need for a complete weed brownie mixture:
4 Eggs

Cannabutter

Vanilla extract

Coconut oil
Recipe: Weed Brownies
Now follow these steps to bake delicious weed brownies.
Step 1: Preheat the Oven for Cannabutter
First, set the oven to preheat format and keep the temperature at 240° F. Place 2 – 6 grams of cannabis flower on the tray. You can also use decarbed flowers but you have to separately buy it. Leave the flowers in there for about 20 minutes.
The heating of flowers is the cannabis decarboxylation process which activates the cannabinoids in the flower's buds and leaves.
Step 2: Add Cannabis to the Mason Jar
Preheat a mason jar in hot water and place a butter stick inside it. The hot mason jar will collect butter and cannabis flower to make the perfect cannabutter.
The decarbed flower is removed from the oven and poured into the jar. After that, stir the mixture and place it in the fridge. Butter takes around 3 hours to completely mix with the decarbed cannabis, becoming cannabutter.
Step 3: Add Dry Ingredients
One cup of flour and a half cup of cocoa powder will go into the bowl. Moreover, a half teaspoon of baking powder and salt will go into the same bowl for stirring. You can add chocolate chips to the dry ingredients to make the weed brownies super chocolaty.
Step 4: Add Sugar and Mix
Generally, 2 cups of sugar in the above dry ingredients give 12 brownies. However, if you have added chocolate chips, reduce the sugar to one and a half cups.
You can also add or reduce sugar according to your taste buds. Remember that if you add counter-sweeteners, such as lime juice or pretzel, you must increase sugar without adding other dry ingredients.
After that, stir all the ingredients before adding wet ingredients to make delicious weed brownies.
Step 5: Add Wet Ingredients and Mix
The wet ingredients of brownies need time to blend in. So, melt the cannabutter, crack 4 eggs, and add one teaspoon of vanilla extract into a separate bowl. Keep stirring the ingredients for 2 minutes.
Besides, you can use THC oil in place of cannabutter as it's the perfect substitute.
Step 6: Mix All Ingredients
You must evenly mix both mixtures before putting them into a third, separate bowl. Moreover, prepare the whisks or the automatic mixer to quickly prepare the thick batter for weed brownies. Manual whisking takes 5 – 6 minutes, while an automatic mixer takes 3 minutes.
Step 7: Fill the Cake Pan and Add Toppings
Prepare the nonstick cake pan by spraying it with butter and lining it with parchment paper. It's easier to remove brownies from parchment paper than aluminum foil.
Brownies without toppings are similar to the sky without stars. Therefore, add toppings on the weed brownie batter as you desire: walnuts, almonds, jimmies, whatever you like.
Step 8: Bake, Cool, and Enjoy
Once you prepare the cake pan with batter and fill it with toppings, place it in the oven. The recommended temperature to bake top-quality brownies is 350° F for 30 minutes. Not a minute less or more than 30 because that will give you poor-quality brownies.
After being patient for 30 mins, take out the hot, aromatic weed brownies and transfer them into the fridge. The brownies must be cooled down to settle the inside chocolate.
Final Words
Your weed brownies will taste the same as the cannabis strain you choose. Moreover, the above weed brownie recipe is for a dozen pieces. You can increase the quantity according to your requirement if more people are craving them. So, wisely choose the cannabis strains and follow the above guide to bake super-chocolaty weed brownies.