Legalizing medical cannabis has created job opportunities in dispensaries regulated by the government. However, you must get certified to work in a dispensary as it's the state requirement. Without having a certificate, you might get penalized by state officials.
The cannabis certificate varies from the nature of the job you want to pursue. For instance, you must get the Certified Cannabis Dispensary Management (CCDM) for the management side of the dispensary. Similarly, you must have a laboratory certificate if you want to join the cannabis testing practices at the labs.
So if you are looking to get the certificate and join a cannabis dispensary, this article will help you to achieve your goal.
Get Certified to Work in a Cannabis Dispensary
Getting the cannabis certificate is a priority requirement to start your career in a dispensary. Other than that, state officials might ask you about the following history:
Medical

Driving

Criminal record

Age (must be over 18)
You must come clean in the above tests to get the certificate. Moreover, you might get interviewed by a senior dispensary manager to assess your background knowledge regarding cannabis.
Here are the key points to getting certified to work in a dispensary.
Check State Regulations
You must know what states allow recreational weed and medical cannabis. Once you get that information, check the regulations of that particular state. Dispensaries in each state are obliged to follow those regulations.
Moreover, the regulations include a certificate and a marijuana card with special training to work in the dispensary. When you complete the training and get the certificate, you are eligible to work in a dispensary.
Complete Your Training
The institution might ask you to join the training program when you apply to get certified. If you have already completed training in cannabis management or whatever field you want to pursue, you can submit the training result to the institution.
However, you must complete the training program if you haven't done any in the past. Completing the training is mandatory. Without that, you can't get the required certificate.
You will learn the following key aspects in the training program:
Cannabis strains

Cannabis usage

Customer service
Remember to join an authentic institution for cannabis training. For example, the University of Arizona offers a Cannabis Certificate Program with complete training.
Acquire the Medical Cannabis Card
To become fully certified, you must obtain a medical cannabis card to work in a dispensary. A cannabis card is similar to an ID card which allows you to legally purchase and sell cannabis. Moreover, you must check the cannabis card of the customers who visit the dispensary.
Some states have strict laws that only people having a cannabis ID card are allowed in the dispensary.
The medical cannabis card helps you enter the cannabis industry as it shows you are eligible to work in a professional environment. Furthermore, you can also visit laboratories where weed is decarbed and processed for edibles.
Gain Industry Experience
You might struggle in the initial days of joining a cannabis dispensary because of the competition. Therefore, you must gain experience relevant to medical cannabis. Here are some ways you can get the required experience:
Complete an apprenticeship program from a reputable institution.

Join as an intern in a local cannabis dispensary.

Voluntarily work in the weed farms and participate in relevant events.
The certificate ensures you have the right knowledge. However, you must have at least one year of relevant experience to work in a dispensary.
Apply for the Job
Once you have acquired the basic requirements and enough experience, it's time to apply for the job. Medical cannabis dispensaries offer various job opportunities, which we'll discuss later. Therefore, you must craft your resume according to your job requirement.
You might be asked the following questions during the interview:
How long have you worked in the cannabis industry?

Have you worked in the weed farm or laboratory?

Did you work somewhere else as a volunteer?

How can you manage cannabis dispensary stuff?
So, do your research before going to the interview. You must also observe the working environment. If it's suitable, accept their offer and start working in the cannabis dispensary.
Jobs in Cannabis Dispensary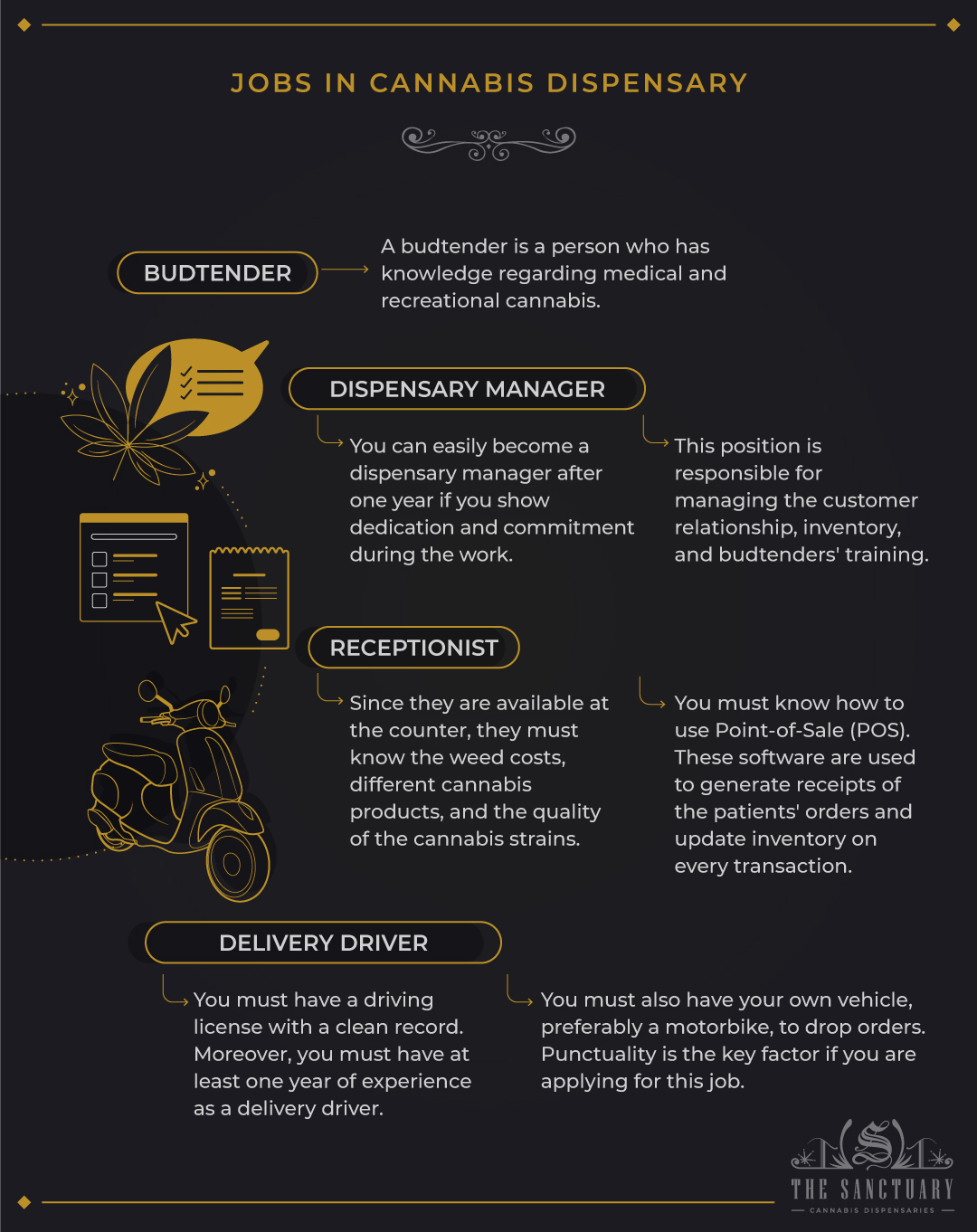 The following are the common job opportunities in the cannabis dispensary.
Budtender
Since medical cannabis is available to purchase from certified dispensaries, patients look for a person to ask questions and clear their queries. A budtender is a person who has knowledge regarding medical and recreational cannabis.
For example, how does THC work in marijuana, or what are the side effects of consuming medical cannabis?
Dispensary Manager
The managerial post is not an entry-level position. However, you can easily become a dispensary manager after one year if you show dedication and commitment during the work. A dispensary manager is responsible for managing the customer relationship, inventory, and budtenders' training.
Besides, you can become an assistant manager if you build a strong resume and do a good job in the interview.
Receptionist
Receptionists must be professionally sound in dealing with patients. Since they are available at the counter, they must know the weed costs, different cannabis products, and the quality of the cannabis strains.
Moreover, you must know how to use Point-of-Sale (POS) software to become a receptionist. These software are used to generate receipts of the patients' orders and update inventory on every transaction.
Delivery Driver
You can also go for a dispensary delivery driver to deliver medical cannabis to patients' homes. To become a delivery driver, you must have a driving license with a clean record. Moreover, you must have at least one year of experience as a delivery driver.
As a delivery driver, you must also have your own vehicle, preferably a motorbike, to drop orders. Punctuality is the key factor if you are applying for this job.
Conclusion
You must get a certificate to work in a cannabis dispensary. Getting certified includes completing a training program, getting a medical cannabis card, and gaining experience in the relevant field. After that, you can apply for the job and start working in a cannabis dispensary.